Who invented this meme for you? Seriously the worst 3 presidents are either good or neutral. They are in no particular order, Woodrow Wilson, Franklin Roosevelt and Barack Obama. They are evil evil. There's nothing good or neutral about them.
[deleted]
You failed history class, didn't you?
How is Wilson Neutral? He is easily one of our worst presidents. I agree with Polk being Lawful Evil though that's spot on.
Show More Comments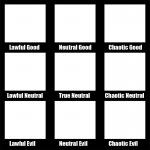 EXTRA IMAGES ADDED: 9
Screenshot_20210820-234859_Chrome.jpg
Screenshot_20210820-235027_Chrome.jpg
Abraham-Lincoln-photograph-Mathew-Brady.jpg
Screenshot_20210820-235239_Chrome.jpg
Screenshot_20210820-235523_Chrome.jpg
Screenshot_20210820-235745_Chrome.jpg
Screenshot_20210821-001432_Chrome.jpg
Screenshot_20210821-002011_Chrome.jpg
Screenshot_20210821-004522_Chrome.jpg
hotkeys: D = random, W = upvote, S = downvote, A = back