Roblox: meh game scummy creators and sometimes there's that one amazing game with creators who do it for the fun of it and not for the money
Fortnite: good game, overpriced cosmetics, bad community
Minecraft: good game
Terraria: good game
1. how did you find this not so old post
2. it is not that bad compared to a lot of games
1. IDK
2. The game itself gets a 3.5/10 but the main reason it's bad is cuz of the TOXIC community
Instead of saying Good game when they lose they say "You'Re gAy"
i never seen that because i always play by myself
Yes its very good if you just ignore the community
[deleted]
Fortnite and Roblox are bad.

Roblox is a game full of nothing but online dating, scamming, and toxicity.

Fortnite is another one of those dime-a-dozen multiplayer shooter games. It's full of salty 7 y/os with their mom's credit card.
Fortnite is an area that has been nuked by 9-year-old toxic slur spamming tryhards, it is not the game just the players, the same can be said for Roblox, A game I was fond of until the good things got Thanos snapped
Show More Comments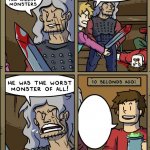 IMAGE DESCRIPTION:
FORTNITE, ROBLOX, MINECRAFT, AND TERRARIA ARE TRASH GAMES
hotkeys: D = random, W = upvote, S = downvote, A = back