That is something a book written by a very biased author claims to have heard from unnamed sources. Until there's better proof I recommend not spreading this.
Don't worry he didn't read it. Bought cliff notes from cnn
[deleted]
That is something written in a book, by real investigators, that your orange messiah agreed to allow to speak to his people. Not a single person quoted has denied a single word of any of it. Except the orange failure, he of course, is trying to deny it all. So once again, it comes down to either the world is lying, or the orange joke is lying. Hmmmmmm
[deleted]
Hitler actually did do some great things. Albeit he was a tyrant who had a majority of Jewish persons slaughtered. Before you ask, here's a few things that are "thanks to Hitler"
Torch bearer at Olympics.
House numbers odd on south and west, even on north and east.
Volkswagen (means for the people or "people's car")
Some architectures
Ban on Vivisection
Animal Conservation
Anti-Tobacco Movement
Construction of Autobahn
[deleted]
I don't need to ask kiddo, and you use some great words there , yet much like your orange messiah, you're full of shit. Great try though. Heil Trump!!
[deleted]
Full of shit? How old man?
[deleted]
Everything you posted son, you should probably not rely on the internet for your "facts". You'll look like less of a moron. Unless moronic nazi is what you're going for.
[deleted]
Actually I was taught that in school. Maybe you should do a little research before you dismiss something.
[deleted]
Even if what you said were true, which it's not. We both know that when your orange messiah is complementing Hitler it has nothing to do with any socially responsible ideas. Trump was admiring hitlers steel grip on his country and his unabashed racism. He admired hitlers unquestioned authority.
[deleted]
Now you're just projecting your opinion on your own interpretation of what he said
[deleted]
No , I'm just pointing out what we all know about the type of people he admires. Let it go. You lost this debate when you cited make believe "facts".
[deleted]
I get it, you want to defend your Cheeto jesus. You want to minimize what a horrific failure and traitor he is. You think that will somehow allow you to sleep better at night knowing that he conned you. Unfortunately, when you use wiki for your facts you end up being humiliated and embarrassed. You'll learn someday.
[deleted]
Im not trying to do that at all in this conversation. This is about the accomplishments of a horrific person.
[deleted]
It's tough to use the word accomplishments in the same sentence as trump or Hitler. Crimes against humanity is a more appropriate term. Treason is also applicable. Although Hitler did have more success, trump couldn't even pull off a coup with overwhelming numbers. Does that fact reflect more on his failures or on his supporters stupidity? You'll have to figure that one out on your own
[deleted]
No , you weren't taught that in school. And if you were, then your school failed you horribly. Which may explain why you believe and repeat nonsense and propaganda.
[deleted]
Research it grandpa and tell me what you find
[deleted]
I have. And you now know as well as I do that your comment was absolute nonsense and garbage. Move on
[deleted]
Then prove me wrong. I can cite many sources to prove my comment.
[deleted]
No , you can't. They don't exist. Another swing and a miss kiddo. I can find many sources that say the earth is flat. I can find many sources that say trump won the election. It doesn't make any of it true.
[deleted]
Get off the internet and go visit a library. There's your proof snowflake.
[deleted]
Although it was a creative attempt to normalize the orange traitors ass backwards comments. But unfortunately, it was a swing and a miss for you. Better luck next time.
[deleted]
So what source would you believe?
[deleted]
History books sunshine. Real, accredited history books. And what you stated, well, there's nothing in any history books that back up your nonsense.
[deleted]
Move on kiddo, I'm bored with educating you. You're welcome for the lesson
[deleted]
1. The Torch Relay

The 1936 Games were the first to employ the torch run. Each of 3,422 torch bearers ran one kilometer (0.6 miles) along the route of the torch relay from the site of the ancient Olympics in Olympia, Greece, to Berlin. Former German Olympian Carl Diem modeled the relay after one that had been run in Athens in 80 B.C. It perfectly suited Nazi propagandists, who used torchlit parades and rallies to attract Germans, especially youth, to the Nazi movement.

https://encyclopedia.ushmm.org/content/en/article/the-nazi-olympics-berlin-1936-inauguration-of-the-olympic-torch-relay
[deleted]
There you go, relying on internet bullshit again lol. Do you know what a library is? I'm sure you have one near your house. I know it goes against everything you trump chumps stand for to actually read about history and facts but give it a shot. You'd be surprised what you will learn.
[deleted]
Oh so an accredited website from the United States holocaust museum isn't reliable? Gotcha. Unfortunately between work and taking care of my kids, I don't have time to do that. But I'll break out my own encyclopedias and find it for you. You know what? Screw that... you want to remain naive, go for it.
[deleted]
Again, even if what you stated were true, which it's not. Trump is no student of history. Remember, he had to be told several times that Puerto Rico is part of the United States and deserves federal assistance after the disaster. Trump only admires the superficial, widely known truths about Hitler. And your feeble attempts to defend what he said is almost as pathetic as the orange failure himself.
Show More Comments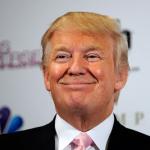 IMAGE DESCRIPTION:
TRUMP TO JOHN KELLY-; "HITLER DID A LOT OF GREAT THINGS."
hotkeys: D = random, W = upvote, S = downvote, A = back