What do you think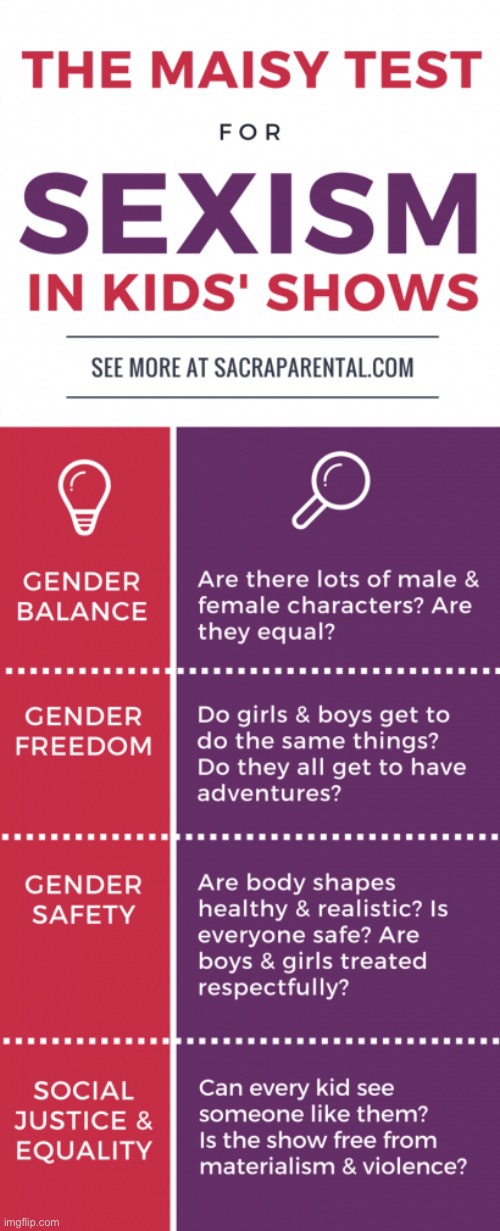 its cartoons nobody gives a shit about that they just wanna watch the show
I agree I just want to watch Pixar my favorite shows don't need to fit a Karen's dumb expectations
Cartoons don't have to fit a Karen's dumb expectations.
[deleted]
But I don't want girls growing up thinking that they will always be the Vice President to a male's CEO.
thats what common sense is for
[deleted]
If you have children, show them shows that pass this test so they don't become sexist.
ima let them watch what they want within reason
[deleted]
I'd want them to watch a show that my friend made up (if it existed). It passes the Maisy test.

Gender balance: It has a female lead, and her siblings are divided between males and females.

Gender freedom: They get to do whatever they want to with no limitations or stereotypes.

Gender safety: Their body shapes are healthy, realistic, and free of sexualization.
Ok, but is it a good show?
theres a differance between equal and given woman more power
[deleted]
I hate anime as most animes fail the test

Gender balance: Fail, because most female anime characters are outnumbered by their male counterparts.

Gender freedom: A very weak pass, because female anime character are strong but they don't usually get to do the same things as males.

Gender safety: Epic fail, because anime sexualizes and objectifies girls, even underage girls.
its anime are they supossed to use stick figures
and girls get more rights anyways
nobody gives a shit, karen. we just want to watch the show.
Well I have 2 sisters and they basically never do anything with me except we play video games like call of duty together
Show More Comments
hotkeys: D = random, W = upvote, S = downvote, A = back