The latest of my Undertale OCs, Quartz. (For those concerned, she's from the same AU as my other OCs.)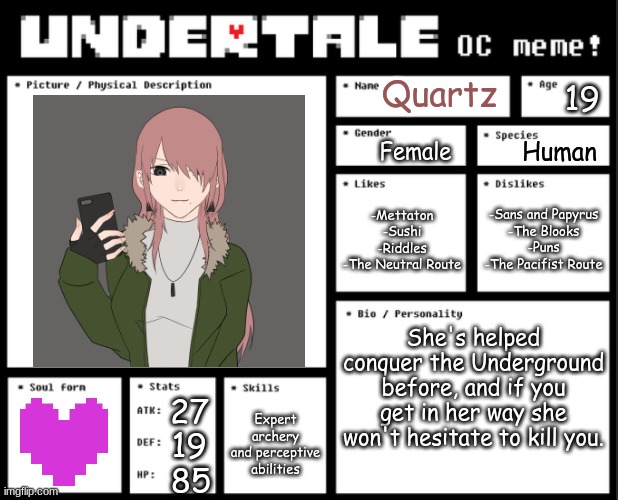 2,965 views
•
9 upvotes
•
Me: Ok, ok, good oc.
*sees that she hates the blooks*
Me: *grabs shotgun* THIS IS NOT OKIE DOKIE
Quartz: "Put the gun down before I shoot your heart out of your body."
>:0 Why you hate Papyrus and The Blooks!? I get it that you hate sans but why Papyrus and The Blooks!?
Quartz: "Papyrus is absolutely pathetic, and the Blooks have done nothing but get in my way."
*TRIGGERED* PAPYRUS IS NOT PATHETIC!
Quartz: "He's a naive moron that can't even figure out that Undyne is never going to let him into the Royal Guard. He doesn't know how to cook but acts like he's a professional chef. He's pathetic."
Quartz: "You wanna get shot? No? Then don't pester me about not liking Papyrus."
Sorry. I just wanted to say that.
[deleted]
Me: Now im gonna have to agree-
Show More Comments
EXTRA IMAGES ADDED: 2
image.png
image.png
IMAGE DESCRIPTION:
Quartz; 19; Human; Female; -Sans and Papyrus -The Blooks -Puns -The Pacifist Route; -Mettaton -Sushi -Riddles -The Neutral Route; She's helped conquer the Underground before, and if you get in her way she won't hesitate to kill you. 27; Expert archery and perceptive abilities; 19; 85
hotkeys: D = random, W = upvote, S = downvote, A = back