sorry im just pissed rn, so its all over the place :D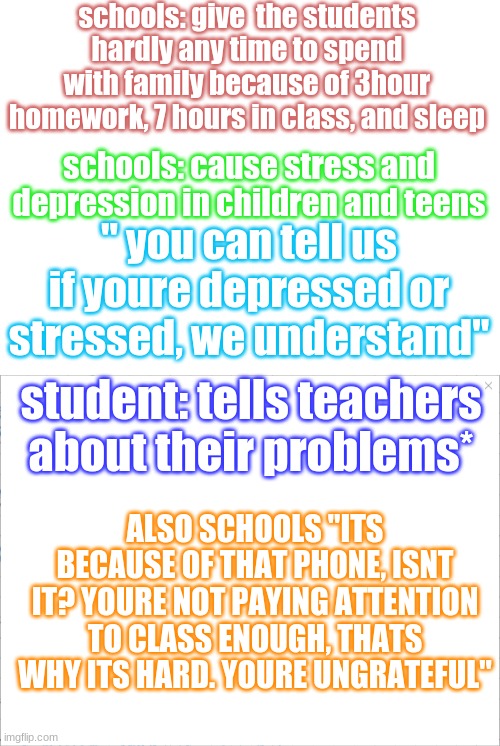 lol teacher just told us she assigned us a wksht, I didn't get it, now its missing
[deleted]
Oof.
I have over a month missing, i think youre in the clear with one *crying noises*
Fun fact: We all hate school
[deleted]
School obviously hates everyone no matter who.
same here yesterday i had to go to one of my mom's friend's birthday and i couldnt do my homework there so IM doing it right now at 7:00 am and yes I just finished
Show More Comments
EXTRA IMAGES ADDED: 1
Blank White Template
blank welcome.png
IMAGE DESCRIPTION:
schools: give the students hardly any time to spend with family because of 3hour homework, 7 hours in class, and sleep; schools: cause stress and depression in children and teens; " you can tell us if youre depressed or stressed, we understand"; student: tells teachers about their problems*; ALSO SCHOOLS "ITS BECAUSE OF THAT PHONE, ISNT IT? YOURE NOT PAYING ATTENTION TO CLASS ENOUGH, THATS WHY ITS HARD. YOURE UNGRATEFUL"
hotkeys: D = random, W = upvote, S = downvote, A = back