felt like this last night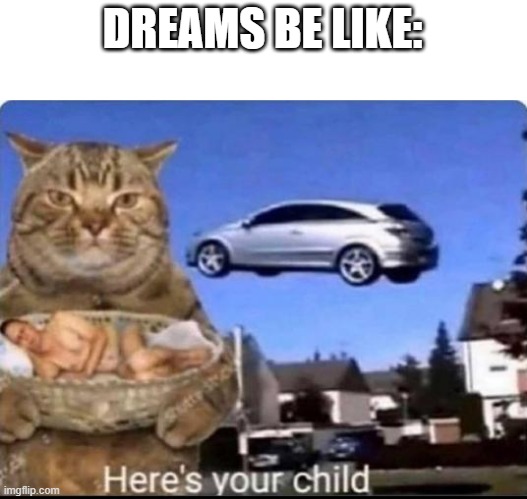 4,803 views
•
305 upvotes
•
[deleted]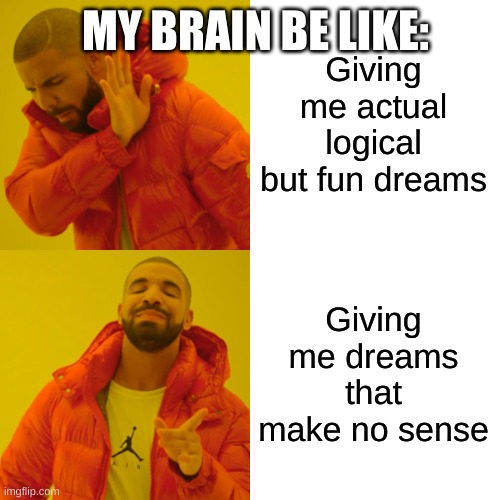 Once I had a dream where Gru from despicable me was taking care of me and my siblings, and there was a store that was snowing inside, my mom was standing by the stores bathroom door, and when we got back in the car, gru told us that he stores dead bodies in his car
once i had a dream and there was a flying mustard can and a flying cat. then the flying mustard can handed me a monkey in a can. huh
[deleted]
i had a dream one time when some shadow version of myself came out of my chest and we played ping pong
[deleted]
The worst is that when you dream everything seems logical lol
[deleted]
A dream I had not only once but 3 or 4 times is that I walked to school with my friends and I got tired of walking so I just jumped up in the air and began to float forward at the same speed as my friends and the worst was that I had memories of me being able to float since I was 2, but my friends didn't even look at me weird.
[deleted]
i had a dream once when i was riding a burrito into a volcano
[deleted]
I dreamed once that I was a vulcanologist and I figured out that a vulcano near a town was going to erupt, so I called some truck drivers that teleported right to the town and started moving it while I sat at the bottom of the vulcano safe from the lava because I was under a blanket. Lol
[deleted]
I wish I could lucid dream tho because I wanna decide what happens in my dreams
[deleted]
But the bad thing about lucid dreaming is that you might get a lucid nightmare instead and I have heard that they are worse than normal nightmares because you are fully aware of what is happening like in a lucid dream but instear of you controlling the dream the dream controls you.
[deleted]
my dreams: hey you, you're in mario kart and everyone's t posing and you're riding nyan cat with tons of speed and acceleration and drift and miniturbo. Luigi gets a redshell and dominates you but you go in max speed because of your acceleration and you f**king go in the speed of light but then mario, riding a baby starts using a star and keeps hitting you but then you speed up to him with a red shell and you dominate him when he doesn't have the star anymore, a blue shell comes but it explodes everyone except only you, luigi starts riding a spider in full speed because it has four legs but then toad uses a gigantic robot and steps on everyone, he wins in 1st place and you speed up to the speed faster than light and you win in 2nd, mario wins in 3rd and luigi wins in 4th, toadette with a cat wins in 5th place and koopa troopa in 6th and everyone else is in any other place, deal with it. Next race gru hacks inside the game and starts using whatever his vehicle in despicable me (the giant thing with many rockets) and starts crushing everyone but then the sky becomes night and you hear gunshots but you see a random gun and its shooting monkey cans but you dodge the cans and everyone else gets shot by the gun and gets trapped in the monkey cans, diddy kong got the gun and keep shooting me but a rain of nuts fall down on diddy kong and i get a microphone and boyfriend from fnf gets it and dissappears, then a clone of me uses a ping pong ball to sabotage my wheel but then he f**king misses because f**k my aim. Diddy kong somehow gets a nerf gun and kills me but then i get revived but as a tpose man and i keep slapping everyone till i wake up
my other dream: you're in your friends house okay hierophant green official and every friend you had is there, thousands of people you never met is now your friend, deal with it. Then you go to the bathroom to wash your hands but there's wasp looking mosquitos and your friend is catching them, you then go away then there's mike wazowski screaming like a dank meme and he kills that one annoying friend, there is a f**king carousel but the horse things are real horses and 10 people are on the horses and they're holding knifes saying: gordon ramsey gordon ramsey, then a cake appears on their hands and they throw it to everyone
Yeah. Honestly, this doesn't even seem that weird compared to my dreams
My dreams: HEY boxjuice CAN I HAVE SOME YUMMY BRITISH TATER TOTS!
Show More Comments
IMAGE DESCRIPTION:
DREAMS BE LIKE:
hotkeys: D = random, W = upvote, S = downvote, A = back