Well, Apparently, He's not as homophobic as everyone thinks
[deleted]
this was a month ago. he's changed.
[deleted]
brb imma copy and paste our last convo
[deleted]
here it is:
kermit: AND SINCE IM ALWAYS PEER PRESSURED AND EVERYONE HATES ME
IM LEAVING EVERYONE'S LIVES, INCLUDING MY OWN
I was just saying that you can live an lgbtq life
But not around me
jk
Your parents probably bate me anyway
*hate
feel free to say your being peer pressured
Idc
Be back....... never.
once you see my parents burying me
its a forever goodbye
Im not misgendering u; I'm saying the fact that there is 2 genders and 2 genders only
My last words: You were too late
me: i cant believe it
i might have caused u to commit suicide
please dont do it...
if u do it, i will never forgive u.
suicide is a permanent solution to a temporary problem.
also 2% of people are born intersex which is like a mix of the two genders idk
Boi, I can tell that's fake from a planet away, How did you buy that?
Show More Comments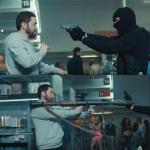 IMAGE DESCRIPTION:
YOU'RE GAY; NO ONE SAID THERE WAS ANYTHING WRONG WITH THAT
hotkeys: D = random, W = upvote, S = downvote, A = back