🤣🤣🤣 WOMEN 🤣🤣THERE ARE NO WOMEN HERE IN SOUTH SUDAN 🇸🇸🇸🇸🇸🇸🇸🇸🇸🇸🇸🇸 COME TO SOUTH SUDAN 🇸🇸🇸🇸🇸🇸🇸🇸🇸🇸🇸🇸🇸🇸🇸🇸🇸🇸🇸🇸🇸🇸🇸🇸🇸🇸🇸🇸🇸🇸🇸🇸🇸🇸🇸🇸🇸🇸🇸🇸🇸🇸🇸🇸🇸🇸🇸🇸🇸🇸🇸🇸
[deleted]
You're saying that women won't date a man under 6 ft. That's literally sexism.
Women can also be sexist you know, just like in the meme, which shows the hypocrisy.
[deleted]
Well I don't date men that are not my age
What does that have to it? I'm not talking about you in the meme am I?
NOT ALL WOMEN ARE LIKE THIS YOU SEXIST!!!!
I'm talking about the bad type of woman. I love women don't get me wrong, but sometimes the hypocrisy can be overwhelming
[deleted]
I won't date a man that's not my age
yeah she is pretty smrt. id rather date someone whos close to my age
Yeah but I don't know what it has to do with the meme
Show More Comments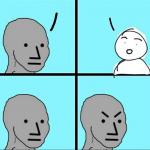 IMAGE DESCRIPTION:
I don't date girls who are overweight; I don't date guys under 6 foot
hotkeys: D = random, W = upvote, S = downvote, A = back