Then among us would just die out because it is no longer fun and difficult to be impostor
[deleted]
But if there was a sheriff or doctor it would be balenced
true but most murder mystery games already have that, removing among us's "bling" of being unique

im just saying, but if you seriously want a new feature, probably better to talk to the devs face to face :)
[deleted]
Ok name one game like that (Non-roblox) with special roles
good point i was thinking of roblox games :P
NO kill cooldown would make it impossible for the crewmates to win.
[deleted]
Then what are you? Maybe a TOXIC waste factory?
Is that supposed to offend me? It didn't.
[deleted]
Yes because you can't comprehend it. Points to me for proving that you're dumb.
No, I comprehend it perfectly, I just don't find it offensive. No matter what you call me, I just brush it off my shoulder.
[deleted]
Hm. It's scientifically impossible for someone with 0 Iq to comprehend anything...
Exactly, I don't have 0 IQ. Thanks for the compliment.
If I had 0 IQ, I would not be typing this right now, you f**king idiot. How dumb are you?
[deleted]
Hmm, maybe your mom is typing it for you...
You are the idiot right now...
[deleted]
But the imposter would be god mode
[deleted]
i think what he meant was that if u want u can change it to 0 kill cooldown, right now the minimum is 10 seconds
But wouldn't among just turn into flicker?
[deleted]
In flicker, you can't witness someone die.
[deleted]
I agree with nobody >:( (Lol)
hmm i think the role will be JESTER
Show More Comments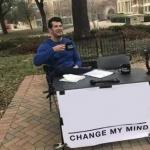 EXTRA IMAGES ADDED: 8
Among us red crewmate
pointing gun
Among us red crewmate
Bloody knife
Among us red crewmate
Among us red crewmate
Among us red crewmate
Among us red crewmate
IMAGE DESCRIPTION:
They should add no kill cooldown and new roles to among us
hotkeys: D = random, W = upvote, S = downvote, A = back