Kris and chara are same person
*ahem* okay, first and most obvious, they look the same. But of course, that's not proof. In the end of eltaryne, Kris rips out his/her soul. Chara was able to be awakened at the end of undertale genocide because of that soul. Deltarune happened before undertale, and there were only two humans that were treated like friends. Chara and frisk. Also if you look it up it mentions that deltarune is chara's story
yes but chara didnt start out soulless. and it wasnt that specific soul at the end that awakened chara it was FRISKS SOUL. (or the players whatever) and besides, chara would've had to age, the war and deltarune were pretty far apart, and thats if you assume deltarune isnt an alternate reality (which it is).
The human soul is able to persist after death, as said
Chara died, and then her/his soul was awakened by frisk's soul
So chara didn't age, as they were already dead
Also, in the Cutscene in deltarune, when Kris rips out their soul, they also pull out a knife
Wh else would do that? Also Kris was associated with being asriel's sibling
the game develeper even states that it is an au
have you not seen game theory
aculy delta rune is a alternent u nivers where the human and monster war never happend so now mosters and humans live in peace with eachother
No it isn't, it's chara's story
ok i know im late to this but there is so much to disprove what bullshit you just said. TOBY FOX HIMSELF SAID "I will say basically, what you are seeing here [deltarune] is not undertale.
To rephrase that, deltarune's world is a different one. With different characters, that have lived different lives. A whole new story will happen." even if he didnt say that, Asriel is in college. in undertale hes just a kid. This cant be after Undertale because, 1. undyne has 2 eyes. 2. undyne doesnt know alphys and vice versa. 3. there is no mention of asgore being a former king, or a king right now in Deltarune (he owns a flower shop). deltarune. is. an. alternate. universe. end of story.
I made this ages ago dude I don't even believe this crap anymore.
Show More Comments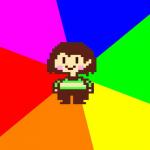 IMAGE DESCRIPTION:
GUESS WHAT! (Y'ALL WERE TRIGGERING ME SO I'M POSTING THIS); CHARA AND KRIS ARE THE SAME PERSON! W O W !
hotkeys: D = random, W = upvote, S = downvote, A = back