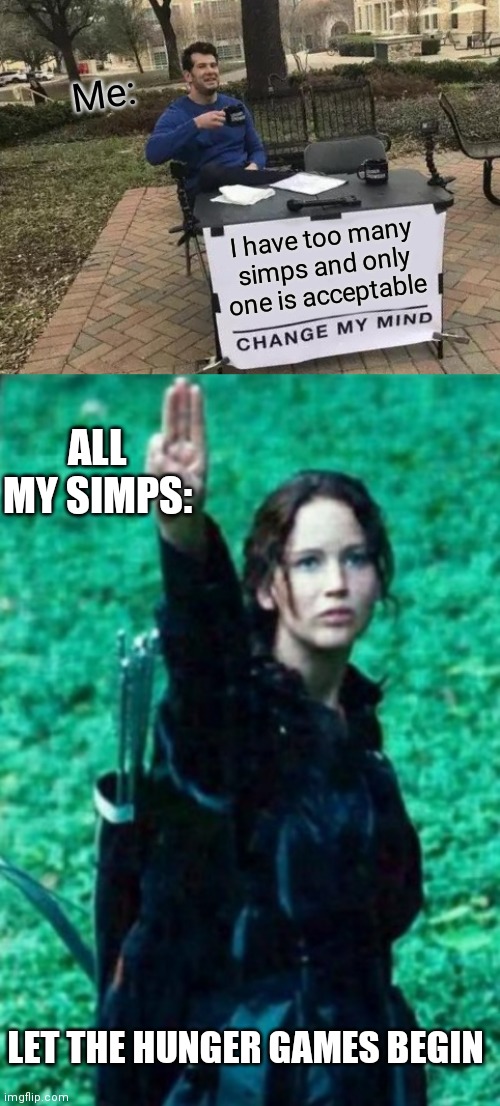 1,837 views
•
6 upvotes
•
[deleted]
For me or for your opponents?
For you I'd have an inescapable hug for them choke hold
[deleted]
Interesting.
I think that's an acceptable answer
Also I'm good with a knife I would know
[deleted]
I feel like the mom from that one vine
"What do you have?"
"A knife!"
"nO"
Lmao I have a knife, a lighter, a sword
[deleted]
nO
*Starts chasing you*
Give them to me rIgHt nOw
[deleted]
nOw!!!
Do it or imma be mad at you~
*emptys our pockets with dozens of weapons*
[deleted]
I have a hard time believing that's all of it
[deleted]
No murdering this close to Christmas
I've got murder on my mind
[deleted]
nO.
I will not date a murderer
So that means I can still hurt people yay
Show More Comments
EXTRA IMAGES ADDED: 1
Change My Mind
Hunger games
IMAGE DESCRIPTION:
Me:; I have too many simps and only one is acceptable; ALL MY SIMPS:; LET THE HUNGER GAMES BEGIN
hotkeys: D = random, W = upvote, S = downvote, A = back