undertale fangirls be like,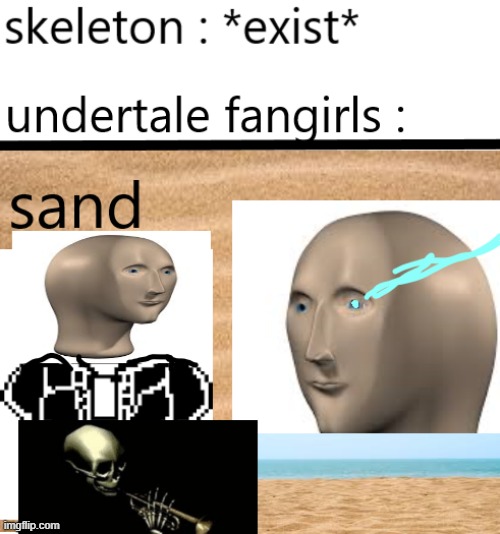 [deleted]
Lmao
I hate these fangirls of Sans so much if Sans were real and not a skeleton he would've committed suicide
(Please note I am not hating on Sans)
Not a bad meme, and I agree. Only one suggestion: Stop hating on the nontoxic Undertale fans, they mean no harm to you.
[deleted]
the fandom ban me after i say papyrus is made from bone
i am now seeking for revenge
I KNOW I HAVE A PROBLEM! ITS NOT MY FAULT! HE FRIGGIN HAWTTTTTTT OKI?! (Kill meh pls no hate)
NO BODY LOVE MEH IRL AND I FEEL LONELY SO I HAS TO MAKE MEH NOT FEEL SINGLE OKI?!
IM A LONELY INTROVERT WIF NU FRANDZ I NEED WOVE
I HATE BEING A FANGIRL BUT I IS ANYWAYS KILL MEHHHHH
Are... are you okay? Should I call a doctor?
Seriously, I'm getting kind of scared.
i oki. me nu wanna be fangirl, but i is :'(
Show More Comments
hotkeys: D = random, W = upvote, S = downvote, A = back