Welcome!!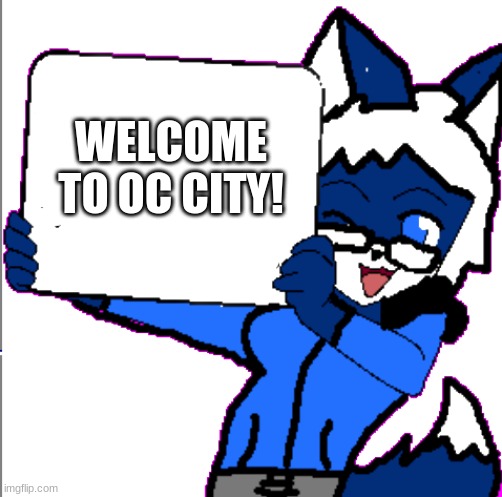 Creative: Well, guess I live here now
Mayor Cloudy: Welcome to OC City Creative! :D
[deleted]
Fireball:I guess so too.
Stickdanny:even your girlfriend?
Fireball:*blushes* uhh..
Bugs: looks like I'm one of the first inhabitants
Mayor Cloudy: Welcome! :D
*thomas is seen crashing through a building*
Bugs: and now my brother has arrived *sighs*
Mayor Cloudy: Please make sure he doesnt destroy anything!!
Bugs; Thomas stop destroying stuff!
*thomas looks up*
Thomas; oh ok
Bugs: hopefully you know who doesn't come here as well
*her ears go down*
Mayor Cloudy: Oh no...
Bugs: don't worry, as long as no one hurts thomas, me, or her baby, she probably won't come, so dont go looking for trouble ok thomas?
Thomas: whatever
*Mayor Cloudy smiles sweetly at Thomas*
*ice lands in a heap*
Bugs: ice! What are you doing? You should be with frigid, you're just a baby
*ice cocks her head in a confused way*
*Cloudy makes shiny eyes*
Bugs: don't touch her. Frigid is super overprotective
[deleted]
Stickdanny:OC city! The newest city in the history of cities.
Fireball:hell yeah it is.
Weenie Burger:I bet they won't have-
Mixmellow:if your gonna say something, don't say it.
Mayor Cloudy: Hey Stick danny! Glad you could make it. You guys can make anything you want here! Make houses, buildings-
Underlust Cocoa: Strips Clubs-
Mayor Cloudy: *sigh* Strip Clubs are fine, But PLEASE but nsfw...
[deleted]
Stickdanny:jeez, underlust cocoa really wants to strip for no reason...
Fireball:it'll be an honor to be civilians of this city, right guys?
Weenie Burger:if Lit posts a pic of her naked or in her underwear, I'm in.
Blocky:I will be happy here. :)
Mixmellow:free cheers to the newest city ever
Underlust Cocoa: It's what I do.
[deleted]
Stickdanny:ok..... (mind:hopefully she has something under those pants or I'll start destroying this club)
Weenie Burger:so is Lit gonna send us that pic of her nak-
Fireball:NO!
Assistant Mayor Lit: Im not sending shit.
[deleted]
Weenie Burger:and I guess you lost a citizen! *walks away* I'll come back if you change your mind and take that pic of yourself nude or wearing underwear! *walks out of the town*
Stickdanny:he isn't coming back forever.
Mixmellow:yep..
Fireball:so Mayor Cloudy, hows your time as mayor?
Mayor Cloudy: It's not so bad! Is a bit hard though. Im going to start bulding some things... You cna build things if you'd like as well :D
[deleted]
Stickdanny:ok.
(Weenie Burger far away)
Weenie Burger yelling from that far:I'll come back to town if Lit does the deed I said. *walks more far away*
Fireball:huh, neat.
Mixmellow:alright
Mayor Cloudy: We need peopel to stay sis, not leave!
Assistant Mayor Lit: thats just weird though...
[deleted]
Mixmellow:yeah, I don't think a pic is a good idea also Lit.
Lit: Im not. Maybe later, but not now..
[deleted]
Stickdanny:ok...
Fireball:wait, are you really gonna do it later?
Assistant Mayor Lit: Key Word: LATER. And yes I will.
[deleted]
Fireball:ok.... (mind:she's really gonna do those two pics, one in her underwear and one really nude, huh. This isn't right)
Stickdanny:Let's change the subject. I built a house for me and my allies.
Fireball:I built my own home.
hippity hoppity time to claim myself a property
Mayor Cloudy: Yep! Pick anywhere :D
Show More Comments
IMAGE DESCRIPTION:
WELCOME TO OC CITY!
hotkeys: D = random, W = upvote, S = downvote, A = back