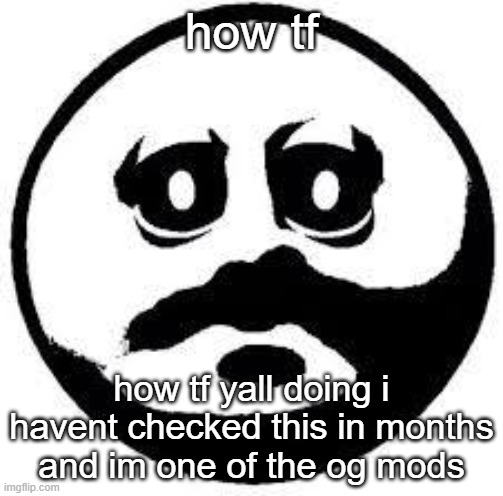 [deleted]
Dude, I never knew there were mods! Great to meet a mod!
yeah dude, there's like...3? and then the owner. but i think I'm the only one who's interacted with the members
Claybourne would be the owner, good child.
[deleted]
Holy shit! You mod the middle school stream, no way, nice to meet you man
A-yup. Claybourne wanted me to help them mod this a few years ago, but I am assuming they forgot about imgflip, as have I. whoops🤡
[deleted]
Who owns the middle school stream? I have so many questions to ask you
Oh that'd be Claybourne, haven't interacted with them in like 2 years. This is the only way we communicated, through imgflip.
[deleted]
Oh cool, nice to hear, i just realized he hasnt been active in 8 months
[deleted]
Who made the middle school stream?
Yeah, it was kinda like a proposal to do it together, but Claybourne is the legitimate owner of the stream, because, duh, he made it.
[deleted]
oh cool, thats nice, most of the mods in middle school aint active right?
I just checked and a mod, I'm assuming one that was added after me, was active 5 days ago. DaBoilsMeAvery is their name.
Show More Comments
IMAGE DESCRIPTION:
how tf; how tf yall doing i havent checked this in months and im one of the og mods
hotkeys: D = random, W = upvote, S = downvote, A = back