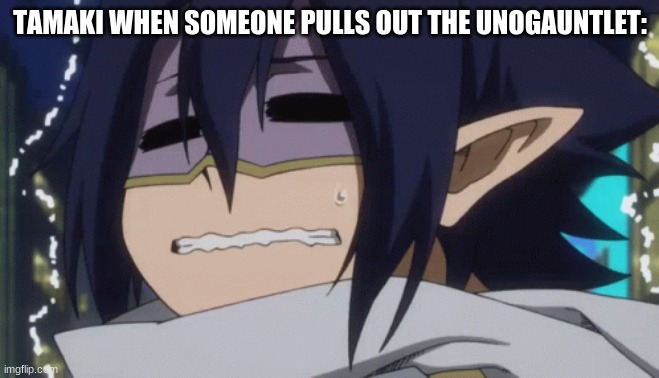 [deleted]
Ah so you ship MSMG and Zero as well? You are very cultured.
[deleted]
Do you think they both have a crush on each other but are too nervous to say they do? Because that is what I am thinking.
[deleted]
Ask Zero to say he likes MSMG I dare you
[deleted]
REEEEEEEEEEEEEEEEEEEEEEEEEE
Tamaki: J-just u-use i-it on m-me...
Tamaki: I-i'm j-just g-gonna run...*runs*
Jess: *sees Tamaki* SunEater!!
Tamaki: *stops* Yeah, Jess?
Jess: *sticks tongue out*
Zero: *uses the power card*
Jess: Even if you are, you leave him alone!
Jess: What! He's just like the rest of us! He's training to become a pro! In fact, he's better than a lot of us...
Tamaki: *eyes grow wide*
Jess: -_-
Zero: I am inevtiable *snaps*
Jess: *uses one of her quirks so it doesn't affect anyone at UA or Tamaki*
Jess: What the h3ll is that even suppoused to do!?
Jess: Bish! NO! Uhh...DENKI!!! *unholy screech*
Kaminari: Wtf
Lucas: *watching*
Zero: XD your face
Kaminari: Wtf is wrong!?
Jess: *points at Zero*
Zero: your face when you thought you where gonna die is hilarious
(Lol SunEater is his hero name!)
Jess: Why are you runing?
Tamaki:*points at Zero*
Tamaki: H-he's got that h-horrible thing!
Jess: *giggles*
Jess: It wasn't funny, I was told all of my friends were killed...just to find out it was a prank
Tamaki: *shakes with fear*
Jess: Calm down! He's not a villain
Zero: at least I think I am not
Jess: *eye roll* Not because of you! Fade...did it and then later they all told me it was a prank!
Zero: well I dont think I am
Jess: *eyes turn as red as fire*
Show More Comments
IMAGE DESCRIPTION:
TAMAKI WHEN SOMEONE PULLS OUT THE UNOGAUNTLET:
hotkeys: D = random, W = upvote, S = downvote, A = back