don't let horrible fnaf haters get you down! These memes are amazing!
Interesting comments section we got here
Please don't post comments like this. If you don't understand this meme, then you shouldn't comment on it.
Ummmmm.....ok.....I sincerely wanted to know what the f u c k this meme is about. This is a meme creation website, for Christ's sake. What the f**k do you expect?
If you wanted to know what this was about, you should have just asked politely. It's about Five Nights at Freddy's Sister Location, a game created by Scott Cawthon. If you look it up the character HandUnit, you should get the information behind its malfunctioning keypad that autocorrects everything to something funny. Also, I am a Christian and your words were offensive to me. Please don't use that type of language on my stuff.
It's a joke about Five Nights at Freddy's: Sister Location. Michael Afton is the nightguard and he has a computer helper named HandUnit. When HandUnit asked Michael to type in his name, HandUnit malfunctioned and said, "You seem to be having trouble with the keypad. I will autocorrect it for you." HandUnit autocorrected Michael's name to "Eggs Benedict". But please, stop swearing. There's no need to get angry at me. If you wanted to know the origin behind this, you should have just asked politely.
Oh, you get an upvote. That's for sure. That game/show sounds pretty funny. The eggs benedict thing is very comical. His name's not even close to that! The goes brrrr" thing is also funny. I've seen it a lot and never knew what it meant. Is the "...goes brrrrr" thing specifically from this game/show?

About the swearing...I didn't even really swear. WTF is not a swear. It is an acronym. It is just about the most common internet acronym out there, so don't hide from it. That is a fool's errand. I'm not calling you a fool, though. "F**k" is indeed a swear. I have a dirty mouth, which is reflected in my internet doings. I'm not really gonna apologize for using swear words. It's just not...1947 anymore.

PS - you say that I was angry with you. That is not true. I was never angry with you about this, I simply said "wtf is this" or something to that effect. Seems like a really damn normal comment to make. Seriously, this is a meme website. There will be profanity. There will be offensive political memes if you choose to enter that stream. I really don't think it's worth having a fit over someone saying some swear words.
I'm sorry I assumed you were angry at me. It seemed like you were making fun of my meme and I guess I just get sensitive because I've been bullied before. The "goes brr" is just part of the meme format, not the game. I think the original meme was like "Haha printer goes brr" or something like that. Personally, I don't l swear myself because I think it's wrong. However, I understand you have different opinions. Thank you for reading my responses and I'm sorry if I made a mountain out of a molehill. I realize to people who aren't in the Five Nights at Freddy's fandom that this meme seems nonsensical. I'm you found it funny after my explanation.
:)
I've heard of "...money printer goes brrrr" quite a bit...it seems like a common one. I like it.
[deleted]
Exactly! Wtf even is this about? I'm as confused as you are.
Read my comment I just made. If you aren't a fan of Five Nights at Freddy's, then I understand why you wouldn't get it, but that gives you no reason to be angry at me for just trying to make something funny for a community of people that play this game.
Thanks for your support!!!
Show More Comments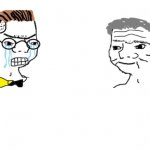 IMAGE DESCRIPTION:
HandUnit; Michael Afton; Noo! You can't just autocorrect my name to a random thing! You're supposed to be high-tech. Haha. Eggs Benedict goes brr.
hotkeys: D = random, W = upvote, S = downvote, A = back