WHY THE HELL DOSE THIS MEME HAVE 12 UPPVOTES JEESUS CHRIST
[deleted]
That's not true everyone in public school is not homeless
I go to a private school so how am I supposed to know?
i thought private schools taught manners guess not
That guy was annoying me and commenting on all my memes.
[deleted]
I know a bunch of spoiled rich kids in my public school
You are just jealous of them because you are homeless.
You have the audacity to call people homeless bc they go to public school? My gosh... what an idiot lmao
[deleted]
That's the worst insult I have ever seen
Okay kid, looks like I'm gonna have to add you to my block list.
[deleted]
Wow ok you can't even take the truth
This is the last thing I'm saying to you. You clearly don't understand what a meme is.
[deleted]
You obviously don't understand what a life outside of memes is
[deleted]
This meme actually makes fun of people who go to public school
Show More Comments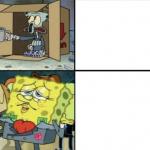 IMAGE DESCRIPTION:
ALL PEOPLE WHO GO TO PUBLIC SCHOOLS; PEOPLE WHO GO TO PRIVATE SCHOOLS
hotkeys: D = random, W = upvote, S = downvote, A = back