Laughing Men In Suits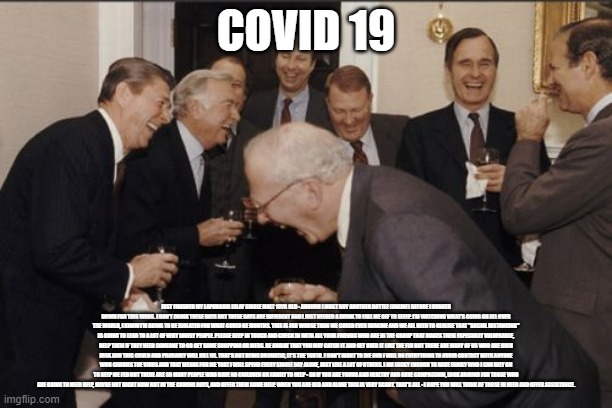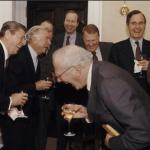 reply
Look on the right hand side of the screen for people who can't read that. It displays the text there
reply
ummmmm
its not rlly visible.
reply
[deleted]
I had no idea what I was doing - all I wanted was the text in a box - best I delete it eh?
Show More Comments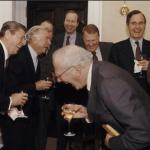 IMAGE DESCRIPTION:
COVID 19; JUST FINISHED MY LAPHROAIG ISLAY SINGLE MALT 10YR OLD - AHHHHH I MUST BUY ANOTHER BOTTLE (ONLINE) BEFORE I HUNKER DOWN FOR THIS VIRUS. I DON'T DRINK THESE DAYS BUT THESE DAYS ARE DIFFERENT AND I JUST NEEDED A DRINK TO LULL ME OFF TO SLEEP. I'M WATCHING WHAT'S GOING ON ALL OVER THE WORLD, I KNOW I'M GOING TO BE ISOLATED FOR WHAT COULD BE MONTHS. THIS IS FAR WORSE THAN WE COULD EVER IMAGINE AND WE ALL NEED TO REALISE THAT "SOCIAL DISTANCING" IS GOING TO LEAD TO A LOT OF VERY LONELY PEOPLE. PLEASE KEEP IN TOUCH AND CHECK IN WITH ALL YOUR FRIENDS WHO ARE IN THE GROUP THAT MAKES THEM ESPECIALLY VULNERABLE, HELP THEM IF THEY NEED SOMEONE TO GO GET SOME SHOPPING OR MEDS. BE AWARE THAT YOU MAY CATCH IT AND GET OVER IT LIKE THE FLU BUT THERE ARE MANY OF US WHO ARE HIGH RISK AND THIS COULD AND PROBABLY WILL KILL US. THAT'S NOT BEING DRAMATIC, IT'S THE TRUTH. I DON'T WANT TO DIE AND I WILL DO EVERYTHING TO AVOID CONTACT WITH ANYONE WHO CARRIES THE VIRUS AND THAT MEANS FOR ME THAT I WILL SPEND EVERY SINGLE DAY ALONE, JUST LIKE A LOT OF OTHERS. I AM LUCKY ENOUGH TO HAVE FAMILY WHO I CAN RELY ON TO KEEP ME FED BUT THERE ARE SO MANY PEOPLE WHO HAVE NO CHILDREN OR FAMILY TO HELP - SO IF YOU ARE YOUNG AND HEALTHY AND HAVE COMPASSION, LOOK AROUND FOR THOSE WHO ARE GOING TO NEED HELP, MAYBE NOT RIGHT NOW BUT IN THE COMING DAYS, AND OFFER THEM SOME HELP. WHEN YOU ARE OLD AND ALONE THIS IS VERY SCARY. THAT'S ALL - I HOPE YOU WILL THINK OF THOSE IN NEED AND OFFER ASSISTANCE.
hotkeys: D = random, W = upvote, S = downvote, A = back