Found this at the dinner table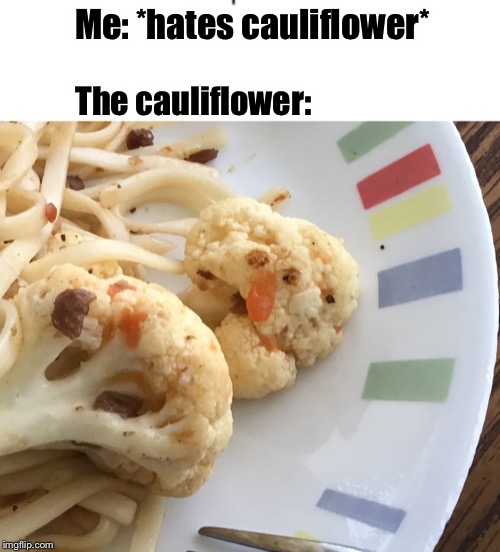 8,548 views
•
109 upvotes
•
[deleted]
Have you seen the broccoli one?
[deleted]
Yeah, were the broccoli is 'flipping' of the viewer. Lol.
[deleted]
Yeah, I loved that one, it was olddddd. I miss the old days
[deleted]
Me too. Sorry, it took a while to reply, I was doing homework. One question was a yes or no one and it asked for an explanation, so I just wrote: 'Well yes, but actually no'.
[deleted]
This is going way too fast
[deleted]
I need to have these powers
[deleted]
No, it's fine, sometimes I get unexpected delays too. Also, I would say both too
[deleted]
Yep, can you approve a post on the stream Ememeon?
[deleted]
Oh, sure! Lemme go do that now!
Show More Comments
EXTRA IMAGES ADDED: 1
7D0175A0-7707-4E8C-8DD6-881C0CCF1F74.png
BCDEECA7-4E8A-4B6D-870E-13C4B4A1204C.jpeg
IMAGE DESCRIPTION:
Me: *hates cauliflower*; The cauliflower:
hotkeys: D = random, W = upvote, S = downvote, A = back