The Langaran Ambassador is the MGM boss!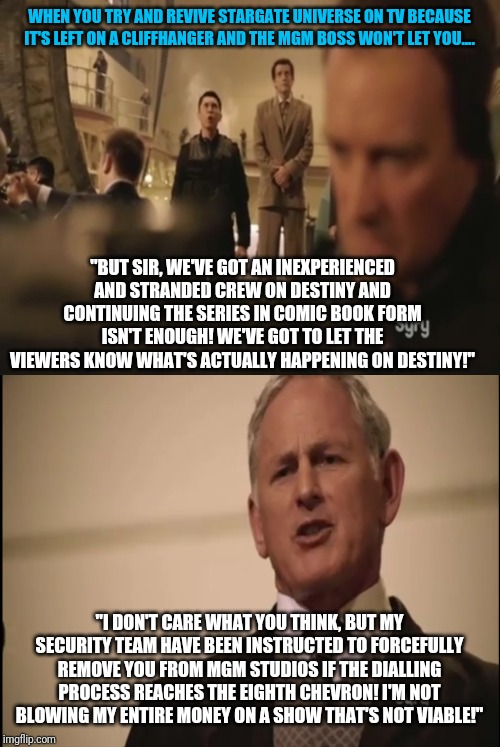 EXTRA IMAGES ADDED: 1
IMG_20191004_172332.jpg
IMG_20191004_172317.jpg
IMAGE DESCRIPTION:
WHEN YOU TRY AND REVIVE STARGATE UNIVERSE ON TV BECAUSE IT'S LEFT ON A CLIFFHANGER AND THE MGM BOSS WON'T LET YOU.... "BUT SIR, WE'VE GOT AN INEXPERIENCED AND STRANDED CREW ON DESTINY AND CONTINUING THE SERIES IN COMIC BOOK FORM ISN'T ENOUGH! WE'VE GOT TO LET THE VIEWERS KNOW WHAT'S ACTUALLY HAPPENING ON DESTINY!"; "I DON'T CARE WHAT YOU THINK, BUT MY SECURITY TEAM HAVE BEEN INSTRUCTED TO FORCEFULLY REMOVE YOU FROM MGM STUDIOS IF THE DIALLING PROCESS REACHES THE EIGHTH CHEVRON! I'M NOT BLOWING MY ENTIRE MONEY ON A SHOW THAT'S NOT VIABLE!"
hotkeys: D = random, W = upvote, S = downvote, A = back