[deleted]
Yes, always has been hoever not for much longer.
The GMO corns about to be harvested and dispatched with so that it never touches humanity again.
Mass cleansing coming.
Globalist psychopaths, their Deepstate and their blackmailed politicians are all feeling the Pain.
PatriotsAreNowInControl.
Nothing can stop what is coming.
[deleted]
first of all i do not care about the media and what they have to say because every media source today is biased in one way or another and even though you are right by saying most problems are caused by conflict between the elite and the common man that is not the only source of conflict in our country.
[deleted]
i was just commenting on the pressure society puts on people to join one side or the other.
[deleted]
you know there are different ways to view an issue and rationalize it. just because it isn't your view doesn't make it wrong. i understand what you are saying and where you are coming from but like everything, every color has different shades
[deleted]
yes i do know that. but you have been trying to convince me that your opinion and view on politics is right. and that my awareness and opinion is wrong.
"proves that you're not aware of that."
"You've allowed those in power...particularly the media...to dictate your thoughts."

I don't see why your opinion is so right. You have said that the left represents people wanting to control and have all the power and that the right represents those who just want to live in absolute and utter freedom. but that is just somewhat right. You are talking about the far right and the far left. if you talked to your average citizen they would only possess parts of the views you have stated and most would agree with different parts of both left and right. The way i see it is you have rationalized your opinion to a point in which the lines are blurred and it is over generalized. but that is only my opinion.
Also if every opinion is not equally valid what makes you think that I will believe yours is more valid anybody elses
Sorry if my thoughts are a little messy. i do not mean to complain but i am tired and i know that my thoughts are probably not as clearly stated as i want them to be but here it is. hopefully you get the main idea of what i am saying.
Show More Comments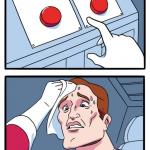 EXTRA IMAGES ADDED: 1
d6f.jpg
IMAGE DESCRIPTION:
far right; far left; REGULAR PEOPLE; WHY DOES IT FEEL LIKE WE ALWAYS HAVE TO PICK ONE EXTREME RATHER THAN MEET IN THE MIDDLE AND GET THINGS DONE
hotkeys: D = random, W = upvote, S = downvote, A = back