123Guy vs. TheMadTitan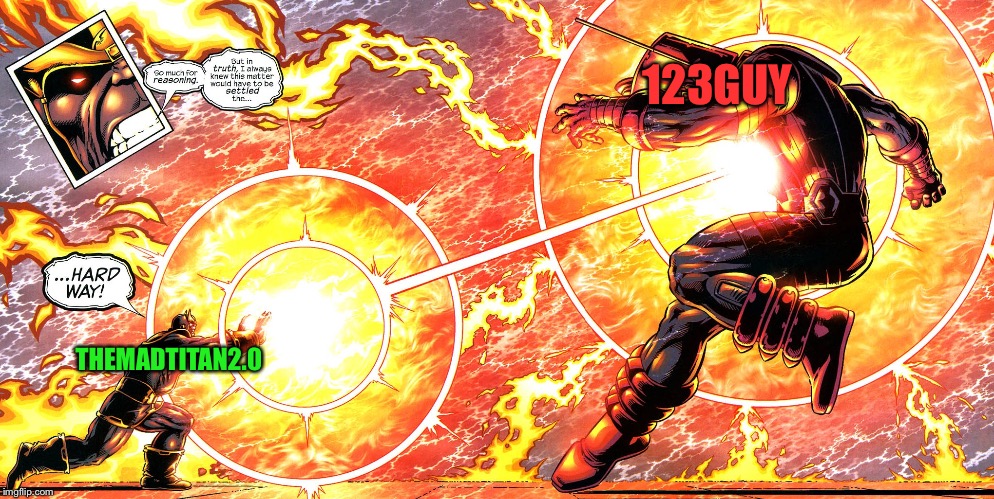 | | |
| --- | --- |
| 137 views, 5 upvotes, Made by anonymous 9 months ago | 123guy |
reply
[deleted]
My imposter is still lurking. I might revive the my old account to take him down
reply
[deleted]
He is gone... He was my past. My horrible past as a troll coming to haunt me. I repented long ago. Why did that foul demon haunt me?!?!
reply
[deleted]
Just help!!! I'm Going insane!!!
reply
[deleted]
I am trained in CPR, "are you ok"!
reply
[deleted]
There's a demon imitating me in my past. I used to be a troll but I repented. Help!
reply
[deleted]
Get a priest! Please! Get help!
reply
[deleted]
Please tell me u kno who dat iz?
reply
[deleted]
Exactly. It's me but it's not me it's someone imitating me. Only I am powerful enough to stop me. How did he know my only weakness!?!?!?!?!?!
reply
Maybe he's been watching you for a long time
reply
[deleted]
Oh my gawd. Ur probably right! If he's me then I know his weaknesses.
reply
Those Mad Titan trolls were me, just to teach you a lesson, as for your weaknesses, it's obvious, your a troll who attacks others and trys to act strong but inside your a pussy.
reply
[deleted]
I'm no longer a troll. I told you that. That part of me died long ago. My only weakness is myself. IM NOT A TROLL ANYMORE. Begone demon!!!
Good job for being good instead of cyberbullying, sorry about those copys.
reply
[deleted]
It's ok man. I'm no longer a troll so I waz confused as to who or what U were. I was wondering if u were the old me coming to haunt me
Show More Comments
IMAGE DESCRIPTION:
123GUY; THEMADTITAN2.0
hotkeys: D = random, W = upvote, S = downvote, A = back