Barren Feminist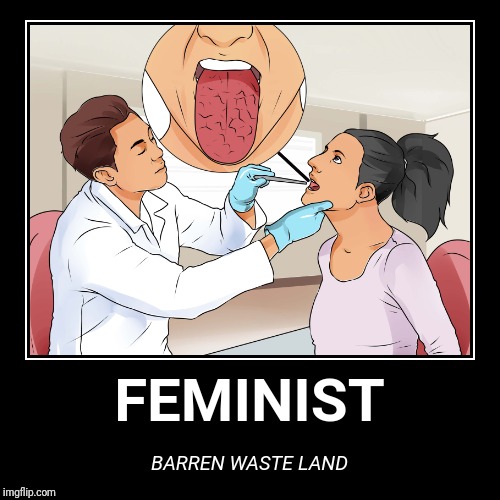 [deleted]
Love it... Jeffrey here..
[deleted]
Hey.. so nice to find you.. foggy cold yucky night here... hope your well and happy !!!
It's bed time in my timezone! lol Enjoy your Imgflipping xP
[deleted]
7:22 pm here.. bed soon to. Love chatting !! Sleep well....
[deleted]
So.. why does I get so jealous when I see a cute girl ???
Upon rereading n my only question now is why you want their used panties.
Lol I'm also curious to know because Jeffrey wants them... Or he's willing to send his .... I don't know lol
Now I'm even more confused...
I'm unsure if you are confused about the Meme or the comments underneath?

The meme is a joke that feminism is like a barren waste land. Which is why the lady is in a doctor office with a dried up tongue. It portrays how women want to be career orientated & they want to be treated equal to men but they still want to raise a family.... Women must make a decision whether they wish to have a family or their career. Most women want it all.... but nobody can have it all. By the time the woman gets her career.... She is stuck with the difficult task of trying to conceive in her late 30s. Which is when the woman realises that although she has a high powered career, she is jealous of the young mothers raising a family because she has been told its impossible for her to conceive. Although the woman reached her career goals, she lost the nurturing role of raising a family. Meaning that most feminists become so focused on their careers they lose a part of themselves they can never get back. Motherhood.

I'm a woman so before you get triggered its from a female perspective not a mindless attack at feminists. To each their own I say, whatever makes people happy feminism or not, every one is entitled to express themselves.

If its about the comments then I'm pretty sure Jeffrey is trolling lol
Oh, okay. Just saying, a woman can have both a career and one or more children of they sort things out the right way and get the right kind of job. One can have it all-- it just takes a bit of finess. For example, if a woman were to have a career as a writer then she can still stay at home and take care of her kids and still write while they're at school. So I guess it just depends on the sort of career a woman has.
I'm targeting the young, over educated corporate females that are ruthless at getting promotions & climbing the ladders (You know the type) they feel the world owes them something.

Theres nothing wrong with working from home or being a full/part time Mother, i actually think women don't get enough praise for the amount of difficulties they endure while raising children. Its just alot of mothers find it difficult to return to work with the corporate feminists i mentioned earlier. You can of course have a career & raise children especially when they're older you'll have more free time, but fighting the young over educated females for a job position can be very upsetting for "older" (30+) women even though they have more experience they can get overlooked which causes a chain reaction of problems.

I have found in my own experience that corporate feminists would rather hire a nanny to raise their children yet they become angry at the nanny & fire her once the child loses interest in the mother. This can be traumatic for the child & nanny.
Also I would like to clarify that just being a stay-at-home mother is also pretty honorable, considering all the stuff they have to do. I just also wanted to give the example of a female writer because that's what I want with my future.
I don't think Women get enough recognition for being Mothers. There is nothing wrong with raising a family, I think the best things in life can be the simplest such as watching your children grow up & being apart of their lives. Finding a job to integrate into that would be ideal. Some women start baking, arts & crafts ect and they have created successful businesses from their hobbies. Its just rare to hear about because most people don't view stay at home moms to be business oriented. organic veggies or home baking at farmer's markets sell big bucks to the corporate world lol
Show More Comments
IMAGE DESCRIPTION:
FEMINIST | BARREN WASTE LAND
hotkeys: D = random, W = upvote, S = downvote, A = back