reply
[deleted]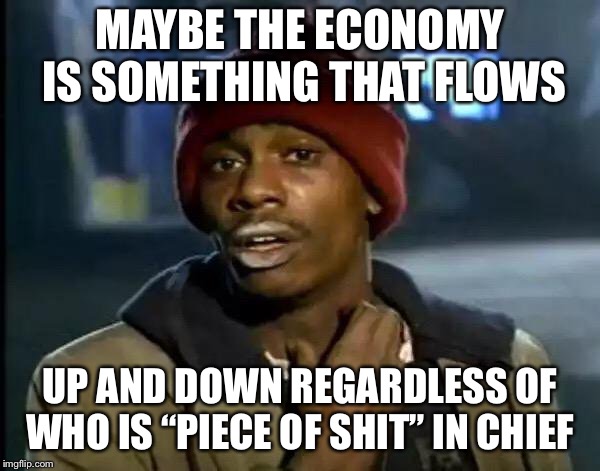 reply
It isnt the economy only. So many records are being made. Record budget agreements, 4 million new jobs, record bull market, record unemployment, record job growth...
reply
[deleted]
You don't seem to understand "cooking" the books and more jobs? What kind of job? wages? where? Just saying something is true doesn't make it true. And besides? Isn't funny how it's suddenly not "fake" news if you like it..lol
reply
I tried to find work during the Bush and Obama years. Now, they are everywhere. Fact
reply
[deleted]
Really? Then you didn't try to hard because there's "always jobs to be had". You just couldn't find a job you wanted. So in closing Trump isn't doing shit other than smoke and mirrors.

Just like all his business dealings.
reply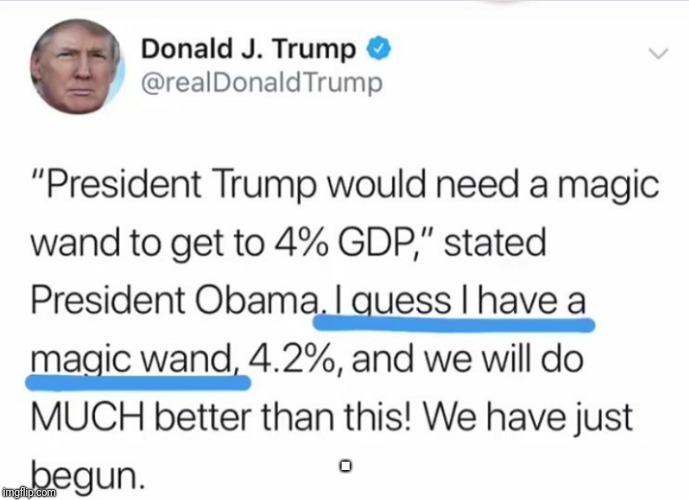 reply
[deleted]
I didn't write the copy paste you posted and so what anyway?

Obama and other presidents have achieved such numbers and better numbers

Do you even grasp it's just a quarterly/3month number?

But? Since Trump was to brag about how he created it? "He didn't" but let's say he did

Now he owns it, when it falls and it will he owns it. He and his Zombies can't blame anyone else
reply
[deleted]
By the way? You posted a tweet by a guy bragging about himself.

And referring to himself in the 3rd person. There's bat shit crazy stuff going on in the minds of people who speak of themselves in 3rd person

Trump is a half assed real state man who got a handout from daddy and knows nothing about other businesses

American Banks stopped loaning him money from my understanding. And the foreign banks charge piles of interest.

If I want to know how to mass produce cars? I'm not going to talk to Trump get it?
reply
If the numbers arent accurate, why would Obama try to take credit for them? I dont think your cornbread is donr in the middle.
reply
[deleted]
Nothing you just posted is related to my last reply.

Just a red herring logical fallacy, you have a great life
reply
Extreme Dissonance on display.
Show More Comments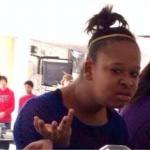 IMAGE DESCRIPTION:
IF TRUMP IS DOING SO BAD; WHY IS OBAMA TRYING TO TAKE CREDIT FOR IT
hotkeys: D = random, W = upvote, S = downvote, A = back