I Think It's Time For Ash To Retire,He's Not Looking Like Himself.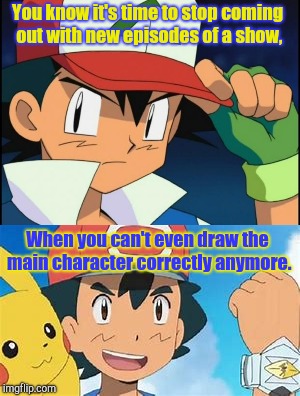 reply
[deleted]
They just wanted a new art style. Pokemon kept using updated versions of the same art style for a long time. The Sun and Moon anime's art style is a nice breath of fresh air, IMO.
reply
[deleted]
Look on the bright side. With a more simplified art style, they can pull off some better animation. Because, admit it, the animation quality is actually really good in the Sun and Moon anime.
reply
[deleted]
Not to mention that with Ash's redesign, he's more expressive than ever. Also, the Sun and Moon anime has more fluid character movement. XYZ's character movement was more static.
reply
[deleted]
How is the animation quality not good? Have you even watched a few episodes of the Sun and Moon anime?
reply
I have watched a bit of it, and I just don't like the new art style
reply
[deleted]
That doesn't make the animation "not good".
reply
You're free to your opinion, I can't change your mind and I'm not trying to, I was simply stating my opinion.
reply
[deleted]
I kmow.

I'm just saying that animation and art style are different things. That's all.
reply
Dude, i agree with u. Sun and Moon is better in art work
Show More Comments
EXTRA IMAGES ADDED: 1
Ash catchem all pokemon
IMAGE DESCRIPTION:
You know it's time to stop coming out with new episodes of a show, When you can't even draw the main character correctly anymore.
hotkeys: D = random, W = upvote, S = downvote, A = back