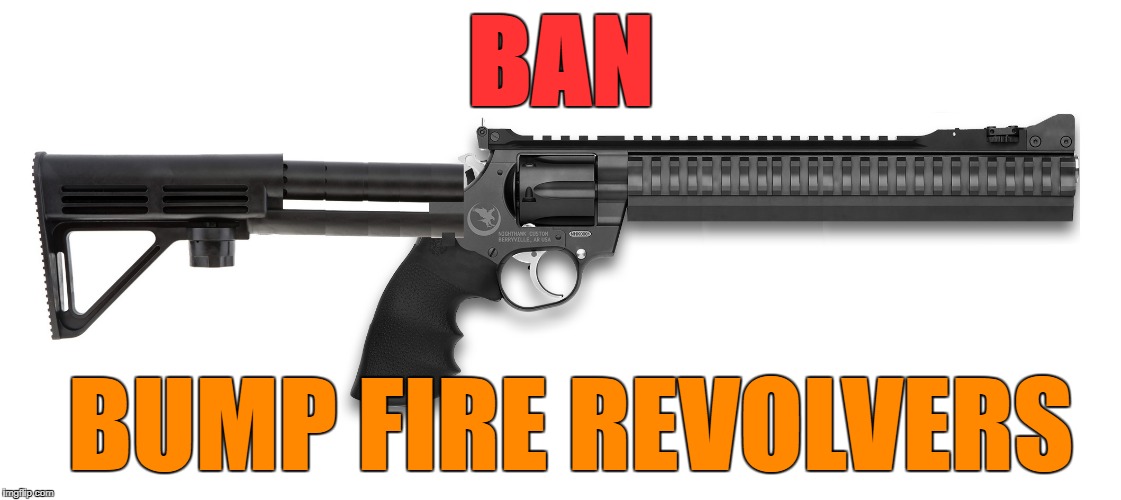 [deleted]
Before you thrust your opinion in our face, howzabout you learn what you're talking about?
* Bumpfire refers to the WAY A GUN IS FIRED - it does NOT refer to the kind of gun that one is talking about
* Because of the amount of travel a trigger takes to make the hammer drop, bump firing occurs in auto rifles and auto pistols, but NOT revolvers!
* And while I bask in your ignorance, shoulder stocks and long barrels have nothing to do with bump firing, regardless of what gun they're on! Do yourself a favor and watch this YouTube demonstration of bump fire:

https://www.youtube.com/watch?v=F__tcYYBmTo
You mean this photo I made on MS paint isn't a real thing? Holy shit.
[deleted]
Don't break an arm patting yourself on the back - you're not that good. The way you have that collapsible stock laying on the frame is amateurish at best.
I just wanted others to know that you're full of hot air and that you don't know jackshit about guns!
No shit, why are you taking IMGFLIP so serious? lol
Show More Comments
IMAGE DESCRIPTION:
BAN; BUMP FIRE REVOLVERS
hotkeys: D = random, W = upvote, S = downvote, A = back