John F Kennedy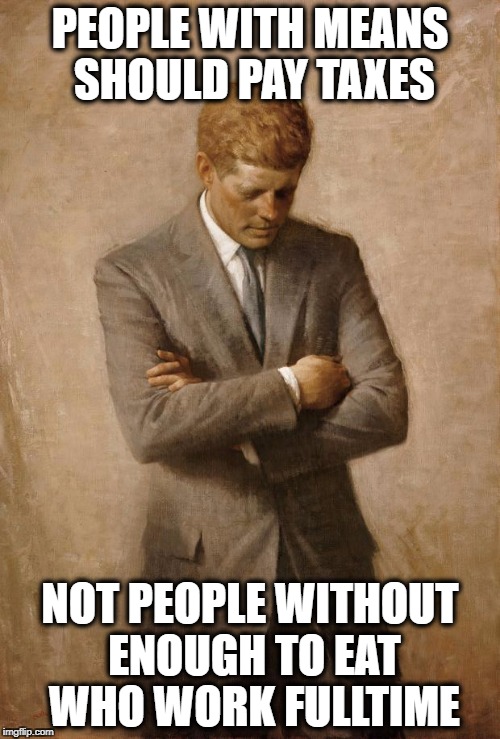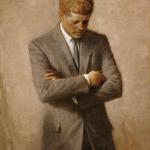 reply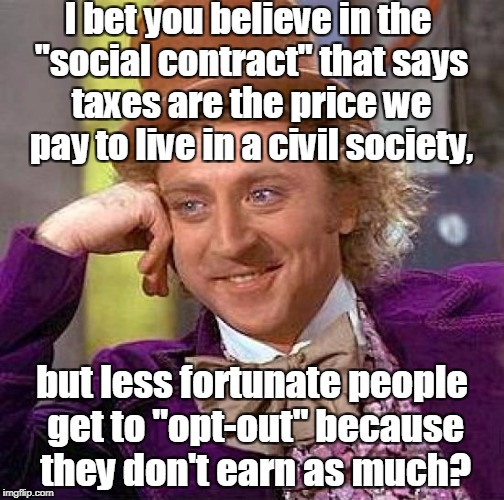 FYI people who live below the poverty line hardly pay any federal or state taxes many in that situation pay zero taxes.

If a person doesn't live below the poverty line, works full time, and still doesn't have enough to eat they are making poor financial decisions. The taxes that the government take is the least of their worries.

I'm no fan of taxes but I am less of a fan of exempting people because they make poor financial decisions.
reply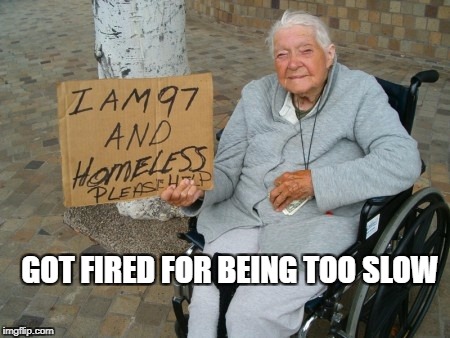 reply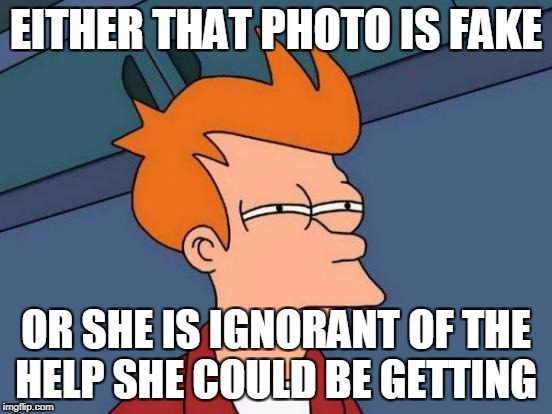 This is a set up photo to tug on heart strings if I ever saw one if this is supposed to be in America.

If she is 97 she can draw social security. If she is wheelchair bound due to health, she can draw a monthly disability plus her social security entitlement. She does not have to be homeless. If she really is homeless it is on her for not seeking the entitlements that are already in place!

Do you know anything about the welfare system? Have you ever been on welfare?
If not, you don't know how it provides for disabled and disadvantaged people.

If she is 97 and wheelchair bound she is entitled to a monthly social security check, monthly disability check, Medicare, and she is eligible for Section 8 housing! She could live in an apartment or duplex rent free or pay as low as $10.00 a month for rent and utilities!

Get out of my face trying to make me feel sorry for someone who already has a system in place to help them. Inform yourself about the system that is already in place and spread the knowledge of that to people who need the help instead of spreading ignorance and the desire for more dependence on the the government!
reply
Perhaps a little more education and a little less ignorance would help you from becoming such an amoral, unChristian heartless sot - http://www.nationalhomeless.org/factsheets/elderly.html
reply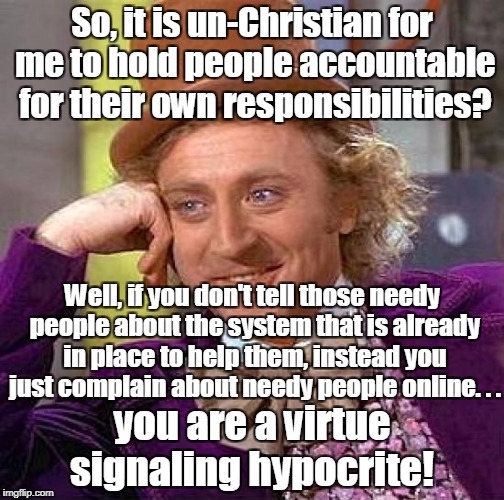 I figured if you couldn't (or wouldn't) interact with any of my arguments you would sink to ad hominem name calling.
Do you spread the knowledge of the benefits and programs available for needy people?
reply
Yes because staying silent about it solves so much ..... stop being such a heartless bastard and supporting giving our tax money to people who dont need it. Thereby making working stiffs pay the nations bills.
reply
[deleted]
Oh,God. Do you mean more social programs? That's what drove California to bankruptcy.
reply
you are another idiot. - California's nonpartisan legislative analyst said Wednesday he's forecasting a $2.8 billion budget surplus next year and says California should be able to weather a mild recession without major budget cuts or tax increases over the next four years.Nov 17, 2016
reply
[deleted]
Everybody has different circumstances that have brought them to where are they are now in their lives! But I certainly agree, you gotta pay you dues!
reply
Sorry dude, but you are NOT a Christian with that attitude and the attitude you express on the rest of this comment stream. So what happened to the love of God? Too inconvenient for your secular prejudices? (And before you fire self-righteous homilies, you would be speaking with a person who grew up in the church, has a religion minor from a faith-based college, and actually uses his brain.) Read the bible, minus the interpretations of others.
reply
Please clarify for me because the reply notification came to me.
laonsite also attempted to play God and declare me as not being Christian for being "amoral" and "heartless" when perhaps he should have said I was "not behaving or thinking like a Christian should."

If your reply was to me, that should also be your argument and hopefully you can show me from the Scriptures how my "attitude" does not fit with your interpretation and application of biblical texts. I will show you how my argument does fit appropriate biblical texts when it comes to paying taxes, working, not working, refusing to work, and giving to the poor, needy, widows, and orphans.
reply
Great, let's have a textual argument, but would it really achieve anything? You will always find verses for your argument and I will for mine. But the truth is Jesus' primary ministry was to the poor and downtrodden and nowadays those conservatives who claim to be Christian seem to have forgotten their duty to help those in need. Basically there are two kinds of Christians nowadays: Old Testament Christians who view God as a vengeful, judgmental God and to whom 'morality' is the sole reason for their faith, and New Testament Christians who see the primary teachings of Jesus as ones of love towards others and to serve God by serving those others. If I offended your beliefs then this is as much of an apology I can offer, but as I've told other conservative Christians on imgflip, if there is a heaven and there is to be a judgment day then many conservative Christians will be judged harshly and will be going to hell. I don't say this to be mean, it's just that all the Christian teachings I grew up with emphasized forbearance towards others and emphasized service to the lesser out there. I would recommend examining your own life and ask honestly whether what you do and believe and how you act is what Jesus would do.
reply
No one gets to find verses to support their argument and ignore others. The entire testimony of Scripture both OT and NT has to be taken together in harmony to come to proper biblical Christian conclusions.

It seems to me like your beliefs are not based on the Scriptures themselves and their proper application, rather on your feelings and emotionalism.

If we don't examine the texts of Scripture in context, how can we know anything about the Christian life?

What does the text say about our need of salvation and how is that accomplished? That is found in the texts of Scripture. I am concerned about the salvation of people who ignore or flippantly gloss over the importance of the texts of Scripture. A person's religious upbringing and history of church and service does not assure their salvation. Neither does their feelings.
reply
Im guessing Mark has more money than you. http://money.cnn.com/2017/05/26/news/economy/mark-zuckerberg-universal-basic-income/index.html
Show More Comments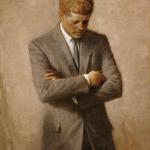 IMAGE DESCRIPTION:
PEOPLE WITH MEANS SHOULD PAY TAXES; NOT PEOPLE WITHOUT ENOUGH TO EAT WHO WORK FULLTIME
hotkeys: D = random, W = upvote, S = downvote, A = back