The Next Time A Westard Says "Pedophilia Is Worse Than Killing"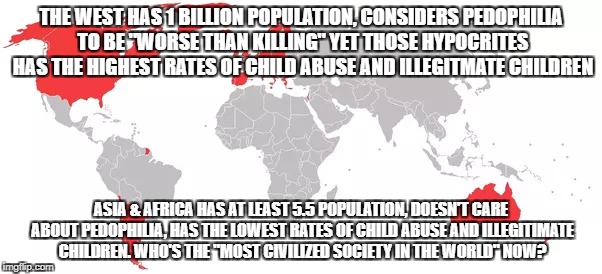 reply
Nice
reply
Noticed this was posted Anon. Only a tiny peckered man thinks it's OK. All pedos are impotent.
reply
[deleted]
Ah, lovely ad hominem from people who like selling off their14 year old daughters as wives for old men to have sex with.
reply
[deleted]
Also, we punish child abusers, and illegitimate children aren't covered under pedophilia. So have fun you Eastard
reply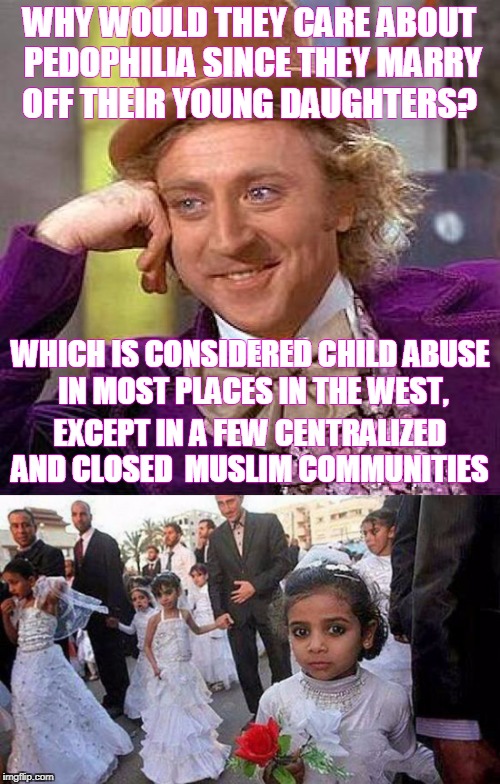 reply
Does that mean in Africa, killing is considered worse then pedophilia? Because there's more killing going on in Africa than Asia and the west combined. What do they think of starvation? Because they have more of that, too.
reply
"Civilized"? Lmao. No. Using child brides is not civilized. Pedophilia is not civilized. Those who want to do sexual things to children have no right to live at all.
Show More Comments
IMAGE DESCRIPTION:
THE WEST HAS 1 BILLION POPULATION, CONSIDERS PEDOPHILIA TO BE "WORSE THAN KILLING" YET THOSE HYPOCRITES HAS THE HIGHEST RATES OF CHILD ABUSE AND ILLEGITMATE CHILDREN; ASIA & AFRICA HAS AT LEAST 5.5 POPULATION, DOESN'T CARE ABOUT PEDOPHILIA, HAS THE LOWEST RATES OF CHILD ABUSE AND ILLEGITIMATE CHILDREN. WHO'S THE "MOST CIVILIZED SOCIETY IN THE WORLD" NOW?
hotkeys: D = random, W = upvote, S = downvote, A = back