Just ask Ray Lewis what happens when you dare to speak your mind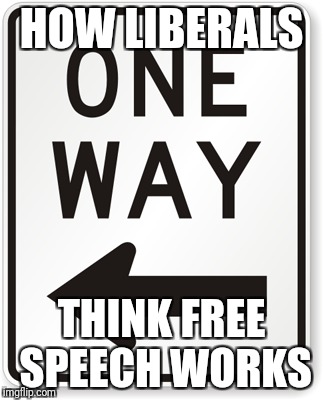 reply
[deleted]
What selective memory you have. Nice try, but you're years late and have seriously forgotten history. Ducky Dynasty, Property Bros(?), Paula Dean...
reply
Starting a new line, the other one ran it's course.

I understand about rogue elements, but to me (and I could be completely wrong) it seems that anti fa isn't a peaceful group that has a couple bad apples. It seems like a group that shows up in masks knowing what they're going to do. Plus the bats with spikes. If they were there as a protection Force, I'd shrug. But when anyone that says anything they don't agree with is suddenly a Nazi and must be beaten, then I have a problem. I agree with peaceful protests for whatever reason. If I want to go out into a park and talk about how the world is flat (not something I think) then I should be able to. Will people mock me? I would hope so. But I should be able to do it. Now, if I stood on a car during a violent protest and called for burning the city down, I would expect to be arrested. And I think that if anyone of any color did that, then they should be arrested. So yes, I agree with you.
reply
[deleted]
Unless the other side has openly expressed that they will be armed, if you arrive armed, even as "security" for your side, you're a bad apple. No one coming with bats and spikes has any business being at a protest. In my opinion FA's are comparable to BLM as far as rogue elements taking over the group. I also think it falls back to poor or incapable leadership on the FA's side by not doing enough to discourage, condone or telling the effers to go the eff home.

Even then, if the original group has stated that they will be armed, don't counter protest without a permit. Let law enforcement do their job and separate the opposing sides so that there isn't a face off by allowing law enforcement to place each group's protest area in a controllable area a good distance from the other group.

The Nazi claim is so overused it's white noise at this point (unless it's actually a neo-nazi or declared white supremacist group). I can't recall if that crap went back to 43's days in office or not, but I'm tired of the Nazi comparisons too.
reply
Agreed. And isn't it illegal in quite a few places to wear masks anyways?

Agreed, if law enforcement is allowed to do their jobs. Our law enforcement has a tough job that I don't envy, but that I absolutely appreciate.

I think the Nazi thing is going to backfire on the left, because basically, to me, it translates to "I don't have to listen to your arguments or even try to understand your point of view because you're beneath me". If you can't see things from the other side, then how can you claim to represent them? If you mock the position of those that disagree, how can they feel anything but marginalized and ignored?

It never ceases to amaze me that I can have adult conversations without name calling and mostly no profanity on a site where you put words onto pictures.
reply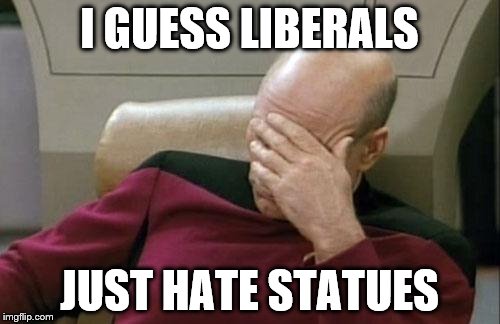 reply
[deleted]
Changing the topic. Great response.
reply
Actually that was the topic. You should pay more attention before commenting...(look at the title...do a little research...)
reply
[deleted]
Not according to your argument. It's the conservatives calling for his statue to be removed. Liberals aren't calling for Ray Lewis' statue to be removed.

If you're talking about liberals and statue removals you've changed topics from NFL protests to Confederacy protests.
reply
Sorry, I was called away to actually work.

You're right, liberals aren't calling for the removal, so my title is in error (i'm capable of admitting when I make a mistake) - however the meme is still correct. I don't understand how Paula Deen was taking away the right for the left to speak, but I am looking forward to hearing all about it.
reply
[deleted]
Your meme implies that free speech can have a cost, which it does. All three examples I provided, including Paula Dean, made statements which are protected free speech, but still suffered public and professional fallout from it. All three were major news stories at their respective times, "do a little research..."
reply
Then I believe that we are agreeing right past one another. I believe that, short of calling for killing the president or yelling fire in a theater, speech is protected, no matter how stupid or offensive. Sure, there is a price - but we shouldn't be acting offended at every stupid thing. When you tell a group that they can't speak their idiotic ideas, then they're given power. And when they're given power, they develop a life of their own - all that they wouldn't have if you'd just let them talk freely in the first place.

I honestly believe that if they would allow people to speak their minds in Berkeley instead of hitting them in the face with bike locks, then maybe some of these issues would just go away by themselves.
reply
[deleted]
Except that you're implying it's only liberals making that stance when clearly that is not the case.

Tell the commander-in-chief that speech is protected. He should be weighing in on the issue being protested. He should not be trying, as the leader of our country, to influence what is appropriate to protest or not, whatever his view of the protest's target is or how a peaceful protest is conducted. Just because a protest may be considered disrespectful, it is still free speech. Let the public and professional repercussions fall where they may.
reply
Yes, in this case I was saying that, because it's true in my opinion. I'm against any restrictions on speech "even if they make you sad" (not you specifically, of course).

If anti fa and Nazis want to beat each other, great, but the people getting beat who are just voicing their opinions need to be protected. And it seems that right now anyone fa is doing the beating instead of allowing the speech. Would you agree?
[deleted]
I deal with protests on a professional level at least weekly, if not daily some weeks. There are violent and/or rogue elements that infiltrate almost every protest (which is our main concern). Unless they're protesting us, my company could basically give a shit what the protest is about, we're concerned about if it could impact us (rogue elements). Most protests don't set out to incite violence. Most counter protests don't go out to incite violence. It's rogue elements from each side that makes the group at hand look bad. Most counter protests aim to show that their side has an equal or greater number of supporters (even if they fail), or least voice their opposition publicly and visibly.

With over 11 years of professional experience I would have to disagree. At the current snapshot in time, they are getting most of the press, but to limit this discussion to such a short time frame would be disingenuous. With just things that have impacted my team, open carry of firearms was one of the most serious protest movements we saw, where rogue elements (such as Open Carry Tarrant County) attempted to use fear to get their way.

When you get a large number of people, one of the concerning factors is "mob mentality." When the rogue elements go violent, it makes it seem like it's ok to some individuals to just go with the flow when they otherwise would never have joined the violence.

Going slightly off topic, in theory I would personally support BLM, but their leadership has not done enough to stamp out rogue elements or condone them. I support most of what their official position is, and I support the idea behind the group's name. How they conduct their actions is not in line with either though.
Show More Comments
IMAGE DESCRIPTION:
HOW LIBERALS; THINK FREE SPEECH WORKS
hotkeys: D = random, W = upvote, S = downvote, A = back