Makes me smile, how about you?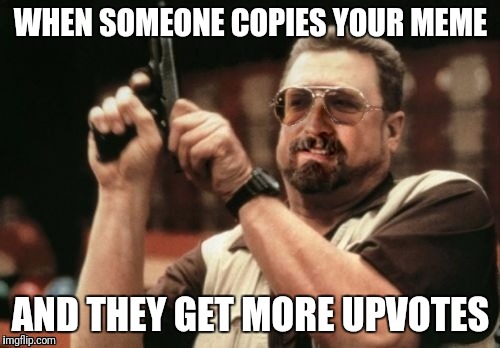 reply
No, I like it. Raydog did it once. I could come up with links, but instead I smile.
Also I am copying captions from
imgflip.com/user/DragonChild
who don't care, probably a million other memes too.
reply
It doesn't bother me if someone copies my memes and they do better. It just means they posted it at a better time. And it's kinda flattering if it was an original meme of mine. Although, I don't have too much of those. As long as they give me a shout out in their post.
reply
I agree it's very flattering and a compliment. No one needs to ask me, I used to say that in my tagline. I should put that back up.

I don't think Raydog saw my submission or copied it from anywhere on imgflip. I bet we both got it outside and brought it inside. Notice how my John Goodman in the image is smiling?
reply
I looked it up, turns out it's not exactly what I said. Maybe I should have done that before I wrote my comments. Mine is a creation, not submission, also the meme here says when someone copies your meme but I was thinking about our gifs. I apologize. Here is mine from 7 months ago, a creation for a meme comment.
imgflip.com/gif/1ffdyu
here is yours from 6 months ago
imgflip.com/gif/1hgc4a
Hopefully my point of the meme is not lost.
reply
I believe I found that one on Imgur when I was looking for something to reply to craziness_all_the_way.
reply
I thought it looked different. Lol.
Show More Comments
IMAGE DESCRIPTION:
WHEN SOMEONE COPIES YOUR MEME; AND THEY GET MORE UPVOTES
hotkeys: D = random, W = upvote, S = downvote, A = back