well, that's depressingly accurate
[deleted]
Amazing how this quote has been attributed to Lincoln as long ago as 1866, although there is no record of him saying or writing it down. Whoever did leave it to prosperity, did leave a good message.
Look up the quote it is Lincoln's http://www.apfn.org/thewinds/library/money.html
[deleted]
I didn't make my claim lightly. http://origins.osu.edu/history-news/getting-wrong-lincoln

The quote is a fine quote, and coincides with my own sentiment. Still, I have never very cynical of much that Is spread around the internet.

Snopes has a good explanation on why the quote was included in the Lincoln Encyclopedia, for example. You can read the incident on their site.

I'm glad you didn't outright attribute it to Lincoln. The picture hints at it, but then, a lot of people have been fooled since those days. Believe it or not, I'm not trolling you. Before I switched to humor, I'd studied journalism, and learned the hard way to keep the premise of my humor somewhat on par with reality. I could use this in a speech, saying that, while falsely attributed to Abraham Lincoln, the original author is unknown. Why he chose Lincoln is fairly obvious: he had something important to say, but knew if he attributed it to himself, nobody would pay attention. But to say a great man said it: people would listen.
Show More Comments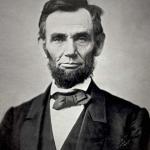 IMAGE DESCRIPTION:
"THE MONEY POWER PREYS UPON THE NATION IN TIME OF PEACE AND CONSPIRES AGAINST IT IN TIMES OF ADVERSITY. IT IS MORE DESPOTIC THAN MONARCHY, MORE INSOLENT THAN AUTOCRACY, MORE SELFISH THAN BUREAUCRACY. I SEE IN THE NEAR FUTURE A CRISIS APPROACHING THAT UNNERVES ME, AND CAUSES ME TO TREMBLE FOR THE SAFETY OF OUR COUNTRY. CORPORATIONS HAVE BEEN ENTHRONED, AN ERA OF CORRUPTION WILL FOLLOW, AND THE MONEY POWER OF THE COUNTRY WILL ENDEAVOR TO PROLONG ITS REIGN BY WORKING UPON THE PREJUDICES OF THE PEOPLE, UNTIL THE WEALTH IS AGGREGATED IN A FEW HANDS, AND THE REPUBLIC IS DESTROYED. "
hotkeys: D = random, W = upvote, S = downvote, A = back