Trust me, you don't want to delete your account. Everyone who has and made a new one regretted it.
[deleted]
It actually won't be the first time. I had to delete my first account because harassment, and a lot of people will say it is my own fault I was harassed. And considering I know there are a couple individuals who are down voting my comments and memes just because it is me, that makes it hard to really get anywhere while that is taking place.
Just curious, who was your first account?
[deleted]
You might have heard the name d2renterprise.
Sir_Memesalot. Yeah, you were definitely right about tetsuoswrath and I apologize for my part in that. I promise to not tell anyone who you really are.
[deleted]
People already know who I am. After seeing Socrates defending Tetsuoswrath pretty much stating he has never done anything wrong, I gave him a piece of my mind while telling him who I am.
Alright. I'm not sure if you heard about what went down between tets and CarbonTHWACK at all, but it was exactly as you described it.
[deleted]
I was hearing something about that, and even saw Socrates defend tetsuoswrath with that. Tets should have had his account deleted back with his enounter with me, based off of the rules of this site, but apparently even the admins are willing to defend him. There were a lot less problems on this site before tets showed up, but that is just my opinion.
Why would anyone do such a thing? Is there some advantage to switching over to a new account?
If someone on the site is harassing you constantly and they won't stop, starting over is an option. Also if you're a troll, making a new account allows you to troll more and upvote your old troll account.
Ohh, gotcha. I should have thought about the alt-account upvote thing. So when you say "troll more," you mean "troll more effectively" I'm guessing? And what form does the harassment take? Downvotes and unwanted comments?
It can vary. I've had trolls that range from being silly to actually stalking me.
Hmm, yikes. I guess it's hard to get to 100,000 points and not piss at least a few people off.
[deleted]
Yeah... like these?:

https://imgflip.com/memesearch?q=porn
https://imgflip.com/m/mvp
[deleted]
Harassment I have received in the past was getting attacked by downvotes because certain people can't handle they were wrong or that I saw things differently. One individual recruited a group that would go and downvote everything of someone to get rid of their memes and hide their comments. It actually caused me to be able to comment only once every 2 hours. The only thing that the admins did because of all of that was remove the downvote counter. The users involved in the harassment never received any punishment and the only way for it to stop was for me to delete my account (which was a couple months before they removed the downvote counter). Lately it has been a lot of unwanted comments, even after I have asked them to leave.
Show More Comments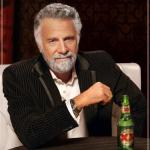 IMAGE DESCRIPTION:
I DON'T ALWAYS HIT 100,000 POINTS; BUT WHEN I START COMING CLOSE, IT SEEMS LIKE IT IS TIME TO DELETE MY ACCOUNT AND START A NEW ONE
hotkeys: D = random, W = upvote, S = downvote, A = back