Vlad gets a little flustered when you send troops to Estonia.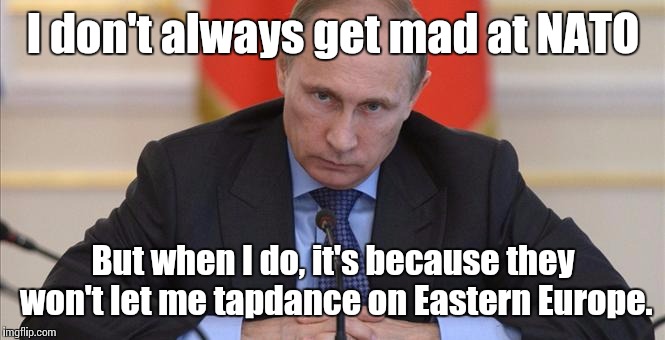 9,720 views
•
3 upvotes
•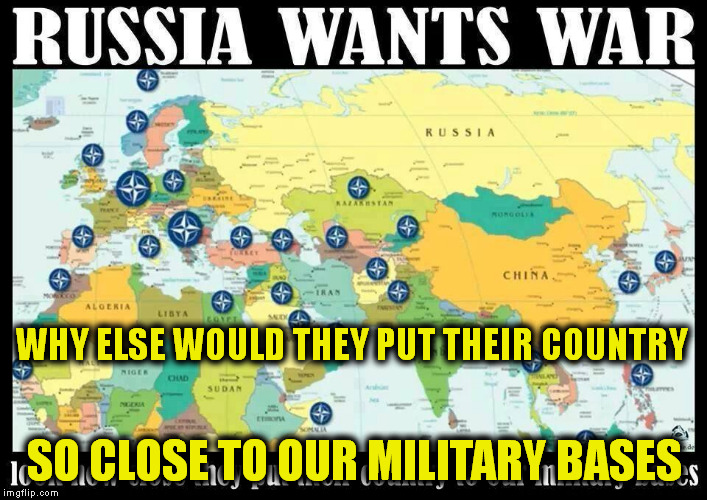 Russia is not threatening anyone. NATO is threatening everyone.
[deleted]
With how much Russia has been literally flexing its guns, it's not unjustifiable to want to strengthen defenses in countries that are close enough to your own. Russia's too big to ignore and say "They won't bother us", whether they're just sitting around or, let's just say, hypothetically, never would happen in a million years, they invade Crimea
Except. . . Russia has not been flexing its guns. Russia has been defending borders, honoring a defense treaty (Syria invited Russia). And. . . developing a new, more inclusive economy.
[deleted]
"flexing it's guns"

http://www.independent.co.uk/news/world/europe/full-list-of-incidents-involving-russian-military-and-nato-since-march-2014-9851309.html

Repeated offenses of Baltic countries' airspace, especially Estonia, by Russian aircraft have led to countries around Russia to wanting to strengthen their borders against possible invasion.
NATO has been antagonizing Russia for years. Ever since Russia started BRICS and created a new economy based on a gold-backed currency, the criminal faction of the U.S. (with the help of NATO) has been taking out countries involved. One of those countries was Libya. Qaddafi was working with African countries to create a gold-backed monetary union that would link up to the BRICS system. One of Hillary's e-mails points out that one of the most important things to do in Libya was steal Qaddafi's gold and silver stash worth billions. NATO is the military for the criminal faction behind the U.S. (and some European governments). The UK left the EU to remove themselves from this criminal faction.
Oh, and I forgot. . . Russia did not "invade Crimea". The U.S. planned a coup in Ukraine (yes. . . we have leaked phone calls and e-mails to prove it). And, since Russia's only warm water naval base is in Crimea, the people of Crimea called Putin for help. Russia helped.
[deleted]
Russia planned, and performed, a coup. No blood spilt on Russian behalf, and executed in record time too. Impressive, I must say.
Nope. Asst. Secretary of State Victoria Nuland claimed that the U.S. spent $5 billion on the coup. She (and others) were photographed in Ukraine instigating protesters and forming the future coup government. The "new" finance minister was a U.S. citizen from a U.S. bank. It took a while to complete the coup. We have e-mails of over a year from Nuland to the neo-nazis in Ukraine that overthrew the government.
Show More Comments
IMAGE DESCRIPTION:
I don't always get mad at NATO; But when I do, it's because they won't let me tapdance on Eastern Europe.
hotkeys: D = random, W = upvote, S = downvote, A = back