Essays...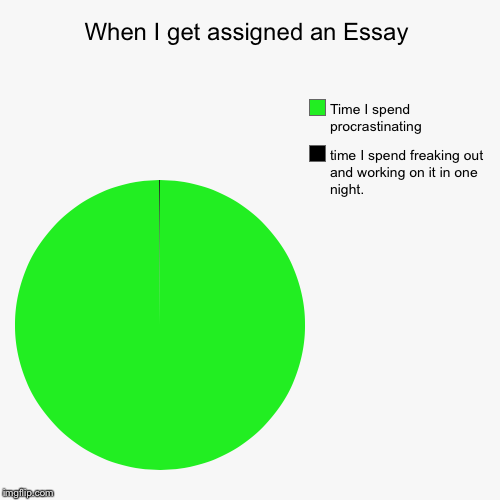 reply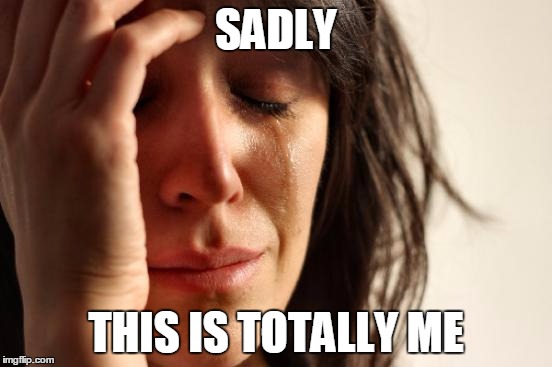 reply
[deleted]
reply
Lel, all the procrastinating stories are coming back to me. Once I got assigned a project on a Monday. Mostly everyone turned it in, and I said that I left at home. Then my teacher looked at the projects she got and said that everyone there deserved a D and then she proceeded to lecture us for the next 15 minutes about what she wanted. Then on Tuesday morning I woke up at 4:30 and did exactly what she wanted.

Lelelelelel I'm so evil..
reply
[deleted]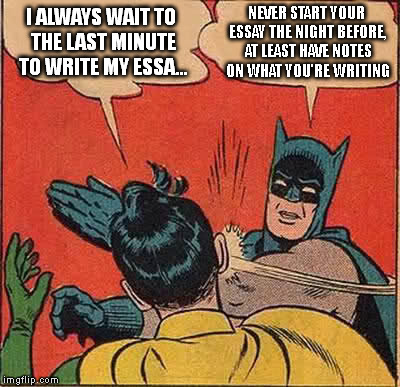 Outline with the major ideas wrote out, spend the night before thinking of filler and side topics that could add to your argument...
reply
I do this the moment the realization hits me that the essay is do the next day, I end up spending half the school day setting it up then pull an all nighter.....
reply
[deleted]
That is crazy horrible habit... oneday you are going to miss something important and fail the essay for more than sloppy last minute writing. Start doing an outline day one with a couple of the major sentences filled in. A good rule of thumb is 5% of the paper requirements 4 hours after being given the assignment.
reply
Thanks for the advice! Thankfully I still have about three days to finish, And I made the meme when I was assigned the essay. I will definitely make sure to use this advise to finish this essay up and for future essays. Thanks!
reply
[deleted]
Do not just take my advice. I had another friend that would write an introduction paragraph, and would take that to the instructor day one to get approval. Then they just filled in the rest with BS they thought the professor wanted to hear...Lol
reply
Lel, I'll make sure to not do that, :)
reply
[deleted]
I'll be honest they got the A(s) and now work at a public Ivy, while I got B+/A- and won't be commercializing the technology I developed in the program until 2 years after our matriculation date... :o
reply
I'm actually working on a project...
reply
I was working on one when I made it....
reply
So true in a school lifestyle, especially towards the end of the year when you feel like doing nothing! XD
reply
This is so freaking true for me with every research paper I did in college. And yet somehow, I still got decent grades. @
[email protected]
Show More Comments
IMAGE DESCRIPTION:
When I get assigned an Essay | time I spend freaking out and working on it in one night., Time I spend procrastinating
hotkeys: D = random, W = upvote, S = downvote, A = back