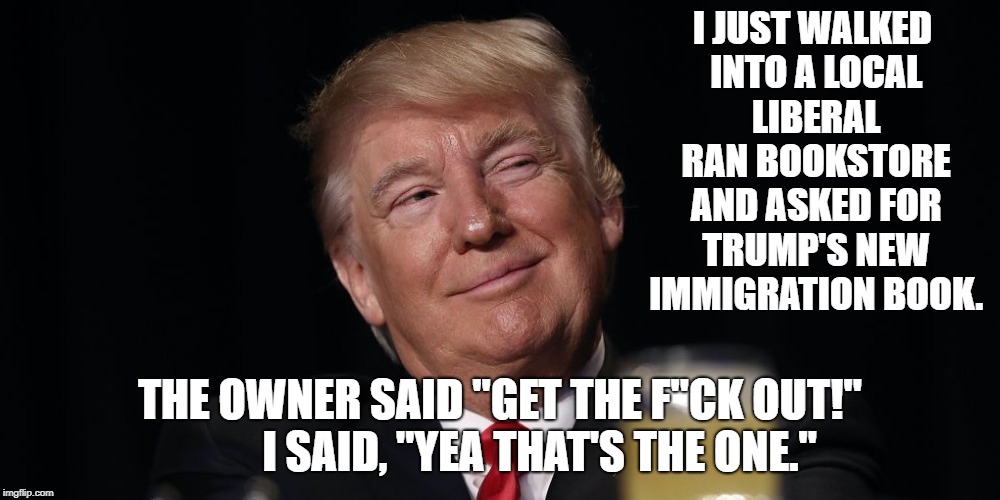 reply
It's a good read, for sure.
reply
I love that one!
i.imgflip.com/22ezgf.gif (click to show)
reply
[deleted]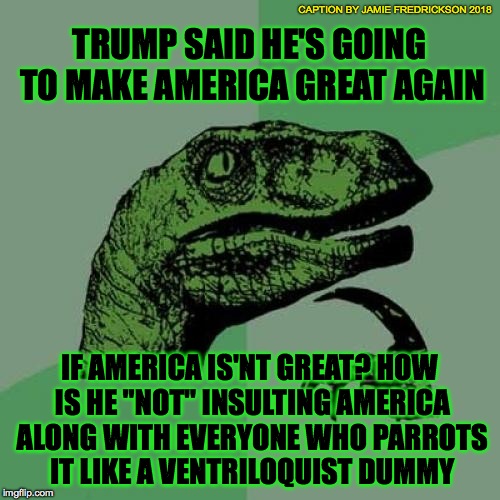 reply
[deleted]
Cuz we had several weak ass presidents that were only in it for themselves and the people bankrolling them.

Wake up. The US went to shit a long time ago.

Thanks for starting to MAGA, Trump!
reply
Oh Wow , Heard That Lame Liberal Line At The Start Of Our MAGA'S Campaign
reply
[deleted]
Whatever you need to say to keep yourself brainwashed as you chant a insulting slogan stolen by Bill Clinton then re-used by Trump. Good old Trump a guy who lies more than i breath air. A man who has real doozies like actually asking Russia to interfere in the election on camera
reply
[deleted]
https://www.youtube.com/watch?v=8EZFBB-MntE Trump could grab your mother by the pussy and you would thank him...btw? I've never voted dipshitocrat
reply
Its not Lame Brains that were manipulated by the Russians to vote for Trump, its Lame Brains like you that believed it was so that lost you the election. Every time you insult the president you insult yourself but thats okay because this president lets us have our rights on free speech, something Obama wanted to take away.
reply
[deleted]
Lame brains like you enjoy believing that disliking Trump somehow translates into being a Democrat. I give two shits that the c**t lost. And I don't give 20 f**ks about Obama. Trump supporters keep talking about liberals being a mental disorder ect and yet? They pray to imaginary beings and can't stop talking about Hillary and Trump. Lolol. One last thing? Trump was boasting about new Quarter GDP. Great. He owns it now. So when it falls? He owns it. But of course he and his supporters will blame everything and everyone else. Hey? The farmers get their welfare checks yet?
reply
Okay so we're both lame brains thats fair, but you must agree things had to change, the establishment had removed itself so far from the common man that another term by a puppet President ie. HRC. would have created a economic situation last seen in the twenties.
Remember this is a public site and if you make disparaging remarks to someone else's opinions you must except the consequences as do I.
reply
[deleted]
I love opinions. opinions based on facts. I hate Obama, Hillary, and Trump. I have no reason to like are trust anyone 100% let alone ANY politicians. Ad-hominem attacks and other logical fallacies are not facts. So when people rant with opinions trying to pass them off as fact? They insult my limited intelligence and become accomplinces to lies and actions that government, law enforcement, commit daily. Humans live in a bubble of Confirmation biases and Cognitive Dissonance. And people who believe things for no reason can not be reasoned with..
reply
The only sure fact in life is you live you die, and in between there's always some bastard wanting to climb over you.
The Katyn massacre according to facts at the time was always known to have been ordered by Stalin yet every country in the world said it was German in origin? As you say we live in a world Confirmation biases and Cognitive Dissonance because to survive we need to wear many hats. I have had by any stretch of imagination a successful life, but I'm not better than anyone, I have abilities that outshine you but you have abilities that out shine me so we are equal. Events in our lives dictate which banner we stand by, but thats not a reason to kill each other, its a good reason to curse and shout but thats about all, and at the end of the day I go to bed and hope tomorrow the argument can be continued.
reply
It isn't conservatives, it's science ... and no, I don't pray to the imaginary beings you're referring to.
http://nypost.com/2016/06/09/science-says-liberal-beliefs-are-linked-to-pyschotic-traits/
reply
I don't get it. Both are anti illegals. Is this supposed to be anti trump or anti dem??
Show More Comments
IMAGE DESCRIPTION:
I JUST WALKED INTO A LOCAL LIBERAL RAN BOOKSTORE AND ASKED FOR TRUMP'S NEW IMMIGRATION BOOK. THE OWNER SAID "GET THE F"CK OUT!" I SAID, "YEA THAT'S THE ONE."
hotkeys: D = random, W = upvote, S = downvote, A = back