August 12 2017
[deleted]
thank you. I appreciate it.
[deleted]
First, thank you for bringing science to our attention. There are just a couple points I;m having trouble with (Remember- this is no reflection on you).
(1) Your meme appears to be originally posted on another site by a non-astronomer.And N.A.'s can be notorious for not getting all their facts right.
(2) The meteor shower is The Perseids shower and happens EVERY year at this time.
(3) In reality there is no way anybody, not even astronomers, can predict with certainty that any given meteor shower will be especially bright. Brightness depends on the size of the dust particles that burn up in our atmosphere, and no telescope can tell us ahead of time how big those particles are.
(4) On August 12, the moon will be a mere 5 days past being full. This means that it will still be bright enough to lighten the sky enough that ONLY the biggest meteors will have ANY chance of being visible.
(5) I have no idea where this person got "96 years" from. As I already said, The Perseids happen every August. The dust the earth travels through comes off of Comet Swift-Tuttle, And that won't pass around the sun again for another 113 years.

Make no mistake- A Perseid meteor shower is well worth looking out for. Just do yourselves a favor and take all claims of greatness 'with a grain of salt'.
[deleted]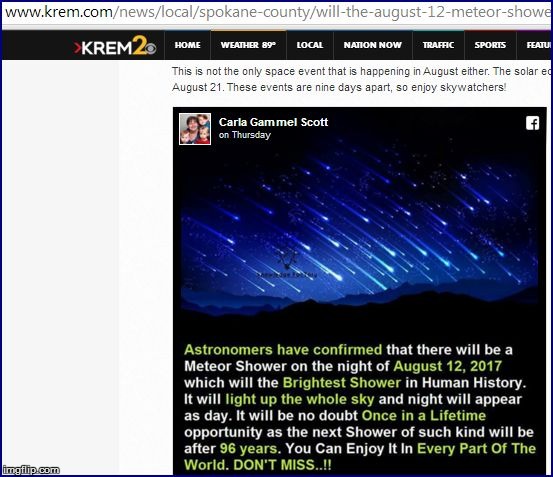 This appears to be the origin of the above template
Show More Comments
hotkeys: D = random, W = upvote, S = downvote, A = back